In this modern era, the communication takes place socially. That means, there is very less use of telephones now a days and most of the people prioritize social services rather than those old stuffs. We can even see that, most of the people uses social media to do some sort of advertisement, message passing and other such services. For this all, we use social media and here we collect the 200+ Social Buttons For Bootstrap.
As we know that, social buttons are the buttons that helps us in directing to their respective web site when we click on them. However, before that, we must insert a link on it if we are designing by ourselves. We can see various flavors of such buttons.
Related: 400+ Bootstrap Buttons Design Code Snippet
We can find various types and designs of social button in the internet today. They are all of different styles and colors and design of them differs from the designer to the designer. Some of them may use large size for the icons whereas some of them may use small icons for the same symbol.
Related: Best Free Vector Icons Collection
Therefore, here we have list of such social icons that are available freely to us and such icons can be used easily for the Bootstrap. There are no any issues with these icons. So, here they goes as.
Circular Social Buttons
Source Code


Bootstrap Social Buttons
Social Counters


Social Icons

Full Name

Floating

Social Nav
Demo and Code


Related: 300+ Free Material Design Animated SVG Icons
Social Buttons for Bootstrap
View Code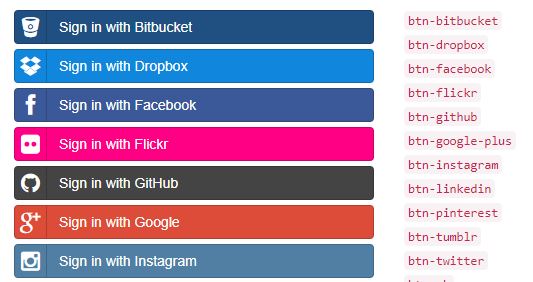 Font Awesome Twitter Bootstrap Social Icons
Demo and Code


Social Buttons Icons for Bootstrap
Get It

Related: Beautiful Animated Social Icon Hover Effects
Social Buttons
Source Code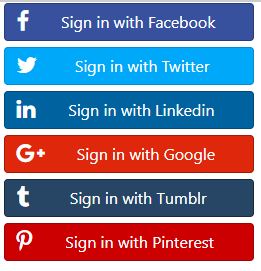 Gorgeous Social Network Buttons
Social Icons
Source Code and Demo


Share On Social Networks
View Code and Demo


Social Icons with FontAwesome and Effect Hover
Social Buttons Bootstrap
View on Codepen


Circular Social Buttons

Conclusion
Hence, from this discussion, we came to know about various Social Buttons For Bootstrap. These all buttons are easy to use and we can easily embed them into our web pages. They come with various designs such as some of them highlights while we hover on them and some of them changes color on hovering.
Therefore, what we suggest to the developer that, if one needs to use such buttons, they mustn't waste their time in designing. Rather than that, it is very much easier to download or use these buttons that are already available to us that saves our time and as we all know, when we save our time, this means, we save our money. Hence, this is all about the Social Buttons For Bootstrap.