These days, almost everywhere, we can find the E-wallet facilities or use of E-wallet. When it comes to the definition, E-wallet is nothing but just a wallet to keep money or some other valued things like credits or points that have equivalence with respect to the money. But the difference between the E-wallet and just a normal wallet is that we can perform various payments on the internet with the help of the money or the points from the E-wallet. Nowadays, we can find many people using such wallet and making their payment with the help of it. It is important for people to access such E-wallet apps in an efficient way. Therefore, here we will be talking about the E-Wallet Home Screen UI Design.
To use the app smoothly and without any confusions, it is important that the UI of that E-Wallet must be easy to operate and in the same way, must also be beautiful and attractive. There may be various criteria or the elements to make them beautiful. So, we must use various references to make them look best.
There are various E-Wallets available to us these days. They are all different from each other. However, the common goal of all the E-wallets is the same that is, to provide service to the user to make online transactions.
Related: 20+ Ecommerce Product View UI Design Concept
Just to make the designer easy to design the home screen UI Design of the E-Wallet, here we have made a list in which beautiful designs are designed and the designer simply can take reference from these designs. Here they are.
Related
E-wallet Home Screen
Wallet App
E Wallet
E-wallet Home Page Design
Mobile e-Wallet Statistics Exploration
e-Wallet App (Main Dashboard)
E-Wallet
Mobile Banking App
My wallet – E-wallet App
App shopping & Wallet Page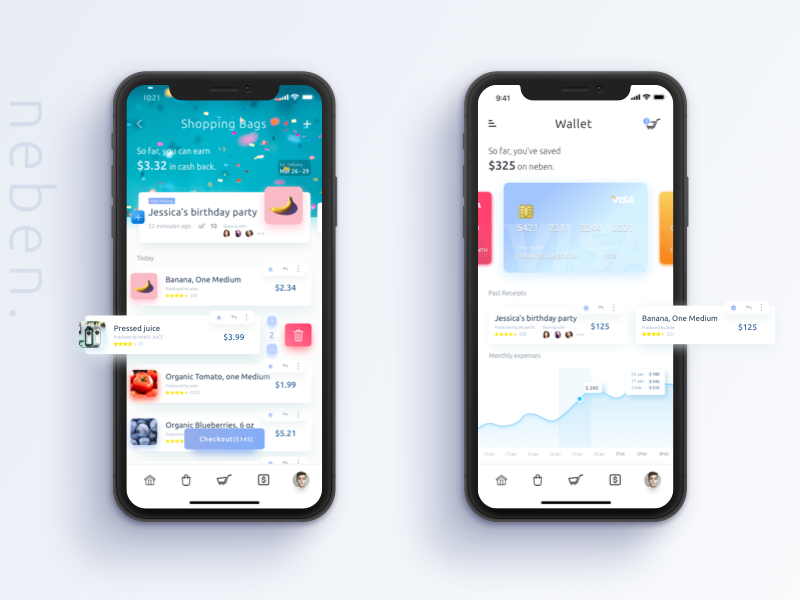 eWallet Concept
GDAX Redesign Concept
E-Wallet App
E – Wallet iPhone Design
Concept for e-wallet
 Floating
e-Payment
E-wallet Payee – Login UI Concept
Day #64 – E-Wallet
e-Wallet App Design
Pay E Wallet
Conclusion
The above-seen list is the list of the designs that are made for the E-Wallet home screens. They are all different from each other. The elements that they differ from, are the color, shape, designs, symbols etc used to design the screen of the E-wallets. It is the most important part of the screen since the screen must be user-friendly and it must be easier to use or operate the user interface.
We can see how they are designed and what elements and features are added in them. We can also find that some of the items on the screen is highlighted such that they can be easily noticed by the users. Therefore, this is all about the E-Wallet Home Screen UI Design.