If your Facebook business page is hacked and someone uses it without authorization, you should immediately report such happenings. This is true even if you recover your account immediately.
You see, a page only gets hacked when an account with a role like Admin, Editor, etc., is compromised. The problem may not always lie in your account.
So, even if you see minor problems like someone posting or deleting some content without permission, it is still better to report.
This will help Facebook keep track of your page and prevent future troubles. Additionally, taking preventive measures can assist you in making your business page secure.
Anyway, this article will discuss how to report a hacked Facebook business page, along with other valuable suggestions. While at it, let's also learn to add a Twitter link to a Facebook page if interested.
Can you Report a Hacked Facebook Business Page?
Yes, you can always report a hacked Facebook business page to the support team whenever such things happen.
Remember, there are two scenarios when someone has hacked a business page. It can be related to your or your friend's/members' account.
If there are multiple Admins, then it can be more serious. So, the first thing to do when a page is compromised is to communicate and find the problem.
If the problem lies with your account, immediately gain control by changing the password. After that, you can report it to Facebook.
Whereas if the issue is with your friends, you can help them. Remove them as Admin or their role immediately to minimize the damage.
Remember, reporting the situation shouldn't come first unless you cannot gain access to your account at all. If there is no way to gain access, then it can be your priority.
Otherwise, try to recover the account using your phone number or email and then make a report.
Note: This article will mainly deal with reporting to Facebook to recover or close the business page.
Also Read: How To Link Pinterest To Facebook Business Page?
Where to Report Hacked Facebook Page?
You can report the hacked business page to this www.facebook.com/hacked URL.
This link allows you to recover your account even if you cannot log in on your device.
Furthermore, you can use the old password to log in if someone has changed the password.
Likewise, if the issue is with your friend or other member, you can ask them to read the article and follow according to their situation.
How to Report a Hacked Facebook Business Page?
There are two ways to report a hacked or stolen Facebook business page. It depends on if the issue is with your or another member's account.
Let's see each situation below so that you can perfectly deal with them.
Situation 1: Report when the Issue is with your Account and Page
If the business page is hacked due to unauthorized access on your end, you can follow the steps below to report and recover it.
1. First, open a desktop web browser on your computer or laptop. You can also use a Mobile browser, but use a PC (Windows or Mac) if available.
2. Next, type "www.facebook.com/hacked" on the address bar at the top and press Enter on your keyboard.
Note: Skip to step 7 if you can still access your account and want to report about hacked pages only.
3. After that, click the "My account is compromised" button.
4. Now, you can type the email or number associated with your account on the next page and press the "Search" button.
This will immediately help you find that account.
5. Then, click the "This is my account" option next to your account.
6. Next, you can type your old or current password on the input field.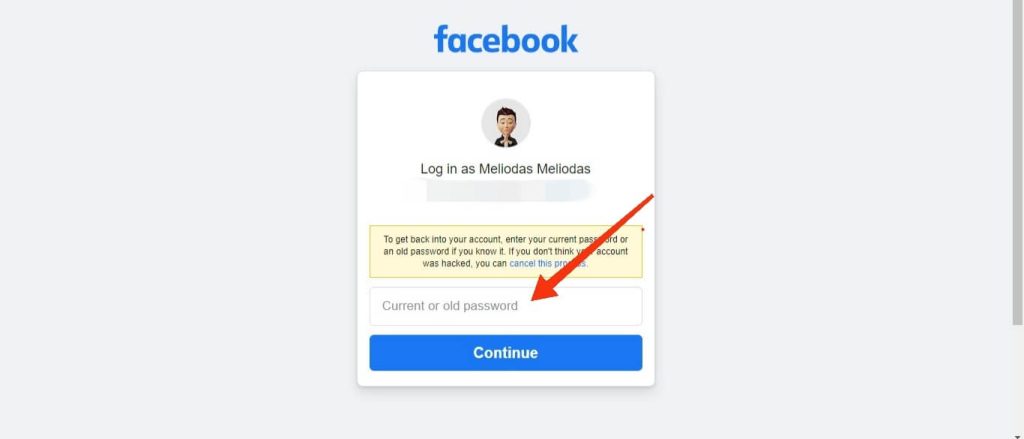 This option lets you log in to your account even if a hacker changes the password.
7. Once you sign in to your account, you will get five options to make a report about your hacked FB page and account.

Disclaimer: If you don't know your password, type anything and press the "Continue" button below. Facebook will now give you the option to change your password with the help of a phone number or email. Use the reset code, change the password, and then log in as in step 6.
8. Now, all you need to do is choose an option according to your situation.
If the option doesn't match, choose "I can't see the right option on this list" from below.
9. Finally, press the "Continue" button and follow the on-screen instructions from Facebook.
Based on the option you choose, Facebook may ask you to reset your password, review your email address, etc., or simply direct you to a FAQ section.
Just follow each instruction carefully, and you are good to go. Add a new email to your account if the problem lies there.
After everything, turn on two-factor authentication on your account for further security.
Situation 2: Report when the Issue is with another Member's Account
Sometimes, problems can be due to the hacked account of your member who has page roles.
Furthermore, if an account also has full control of your page and if the hacker removes you as Admin, you cannot do much on your end.
In such situations, ask your friend to go to the hacked section on the support page and recover their account immediately.
This section covers each situation your friend may have encountered. So it will be easier for them to recover such page access quickly.
Look at the screenshot below for an example.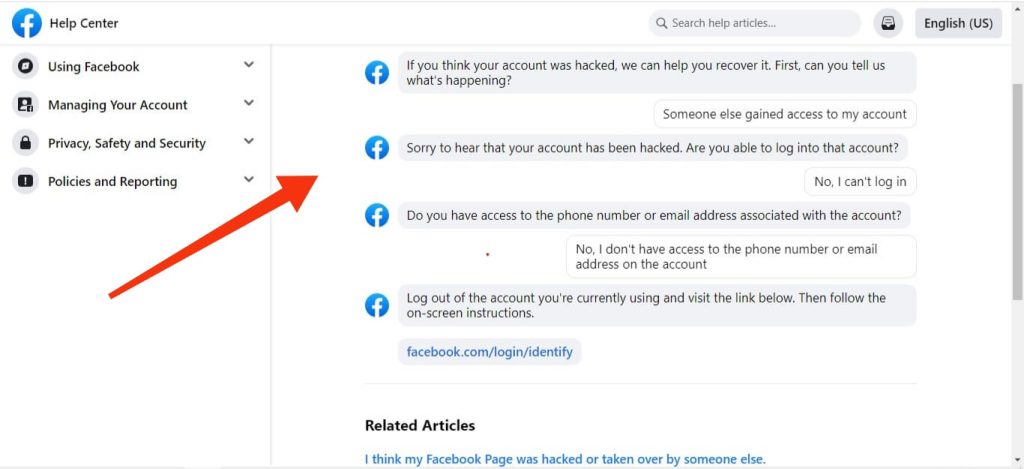 Note: If the situation isn't good, you can also request to close your page from this section.
Another thing you can do is to ask your friend or member to follow the steps in the previous section above. If they know their email or phone number, it is quite easy for them to restore their account to their previous condition.
Once they recover, you can ask them to add you back on that page.
What to do if your Facebook Business Page is Hacked?
If your Facebook business page is hacked, the first thing you should do is to confirm if this is true. Sometimes, it can be a simple technical error.
Once you confirm this, immediately go to the Facebook login page and reset your password by pressing the "Forgot password" button.
You can change it from inside if you can still log into your account.
If you are having difficulties because someone has changed the password, visit the "facebook.com/hacked" page.
Now, recover your account by following the on-screen instructions. This method allows you to use your old password even if a hacker has changed it.
After recovering the account, enable the two-factor authentication for extra security.
Finally, correct if there are any changes on your page, inform your audiences about such happenings, and remove all the irresponsible members.
It is also better to not give full control of your business page to others if possible. Also, do update your password regularly and make it strong.
Can a Hacked Facebook Page be Recovered?
Yes, a hacked Facebook page can be recovered quickly as long as you are the real owner.
If you have access to your email or phone number associated with your Facebook account, you can quickly change your password and log in to your page.
You can also visit the Facebook.com/hacked page for easier recovery.
Furthermore, you will still get a message/mail on your device even if someone changes the email.
So, quickly go to your email inbox and recover your address from the message.
What Happens When Your Page is Hacked?
When your page is hacked, the hacker will gain unauthorized access to your page, you may see malicious content, your page info may get altered, and you may lose control of your page.
If you don't handle the situation properly, your page can lose the trust of followers; you may see a negative impact on the community, search results, etc., may face legal consequences, and it will take forever to recover your page.
Hence, try to recover your account and page as soon as such a case happens and report the situation to the support team.
FAQs
How do I report if my Facebook page was hacked?
To report and recover your account if your Facebook page was hacked, go to the "facebook.com/hacked" section and choose your situation. Now, follow the on-screen instructions to secure your account correctly.
Can a Facebook business page be hacked?
Yes, a Facebook business page can be hacked if the primary account related to it is compromised.
What does a hacked Facebook page look like?
A hacked Facebook page may publish unusual posts, have wrong and changed page info, unfamiliar members, malicious content, etc.
Final Thought
In conclusion, you can always quickly report and recover your hacked Facebook business page.
Even if the issue is with other members, you can immediately direct them to recover such a page.
Overall, do take precautions beforehand to avoid encountering this kind of issue. You can read other Facebook page tips on this site for better understanding.