Are you having a rough time on Pinterest due to less traffic generation and poor visibility? Let us make it easier for you. You just need to link your Pinterest account with your Facebook business page. Doing so will solve this problem of yours like it never existed.
In this digital realm, every platform has been popping up like popcorn with new features to satisfy its users, and Facebook is no exception here. It has some attributes with colossal potential to fuel the success of your business in no time.
So, without delay, you should effectively utilize this optimal chance and steal the spotlight from competitors.
You are already putting enough work trying to crush it on both platforms; now it's time to play checkers while others are playing chess.
Tie a knot between your Pinterest and Facebook business page and see how reach and impression will flood into your content on both platforms. Actually, this might be a very good dual setup success for you.
However, if you think connecting a Pinterest to a Facebook business page is a lame idea for marketing, you are slipping away from the right thing.
So, give it a shot already and see how you'll go berserk after realizing its true significance. Also, check out more Facebook page tips and tutorials.
Can You Link Pinterest to Facebook Page?
Yes, you can link your Pinterest to your Facebook page. What can possibly stop you from doing so? Nothing.
Furthermore, you can add your Pinterest link to your Facebook page in two ways.
One, you can use FB's built-in feature (Add a social link) to connect to different social media like TikTok, WhatsApp, Pinterest, and others.
Another way is that you can simply copy your Pinterest profile link and add a bio on your Facebook page with it. That'll get your work done.
The best part? Both of these methods produce results very effectively. It's like a win-win situation for you either way.
And yeah, it's not that Pinterest will be connected forever once you combine it with Facebook.
That is only possible if you have created your Pinterest account with Facebook.
Thus, you can remove the link anytime you like. Still, we recommend not to do so as it won't create any conundrum for your business.
How to Link Pinterest to Facebook Business Page
Connecting Pinterest to your Facebook business page is nothing to be concerned about; it's as easy as a walk in the park whether you're using a desktop or a smartphone.
To do so, we'll guide you in the most effective way for Android, iPhone, and even Laptop(Windows or Mac) so that you won't have any problems no matter what device you have.
However, there are two things you must have before starting the method. One, you must have a Pinterest username. You must be the admin of the FB page to make changes to your profile panel.
On Mobile App
To link your Pinterest on your Facebook business page on Android and iOS devices, follow the below step-by-step process:
1. Open the Facebook application on your mobile phone.
2. Tap on the hamburger icon on the top right and switch to your Facebook business page.
3. Tap on the three dots located at the right side of manage on your profile.
4. Tap on Edit above the Edit Action Button, from where you can add a CTA button like the Shop Now Button, WhatsApp button, etc.
5. Scroll down a little and tap on Add in the Liks section.
6. Now, you'll get two options: Add a Social Link and Add a Website Link. Choose Add Social Link.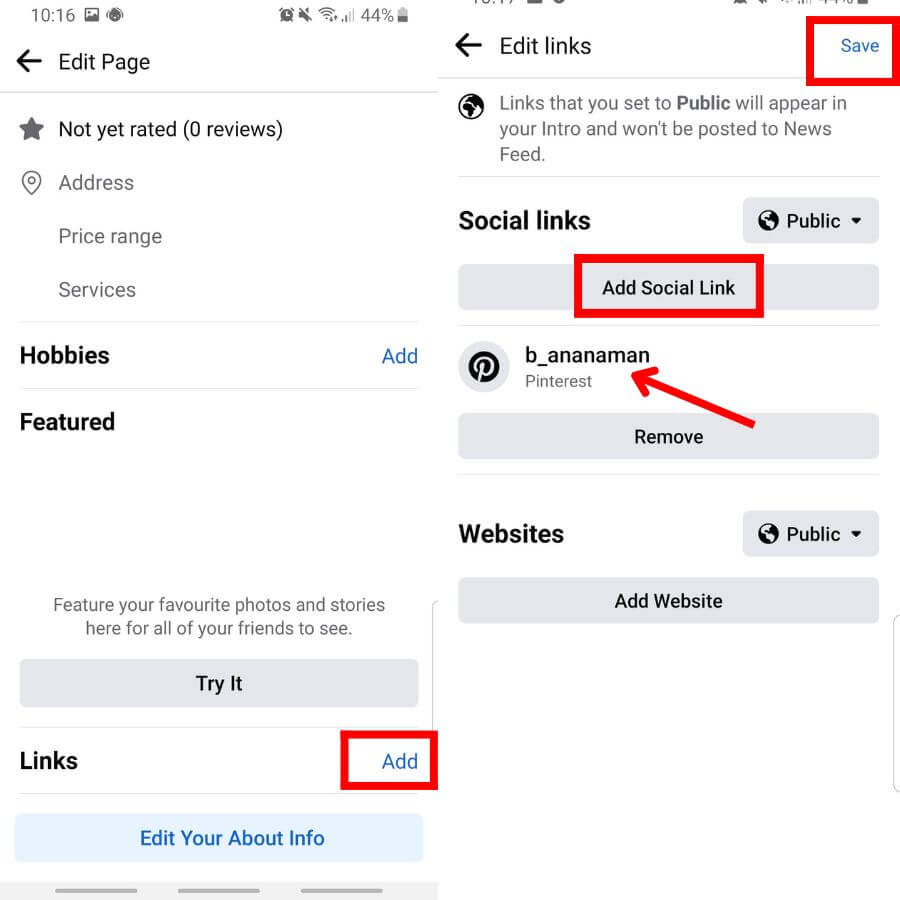 7. From the social links section, you will see the lists of different social media, and choose Pinterest.
8. After that, tap on the Username textbox and put your Pinterest username.
9. Lastly, Tap on Save, located on the top right, and there you've had it linked.
On PC
1. Open a web browser on your computer and ensure you're logged in.
2. Click on Account beside the notification and switch to your business page.
3. Click on About, located on your profile panel.
4. Go to Contact and basic info from where you can also add service area location, address, email, etc.
4. Click on Add a Social Link in the Websites and Social Links section.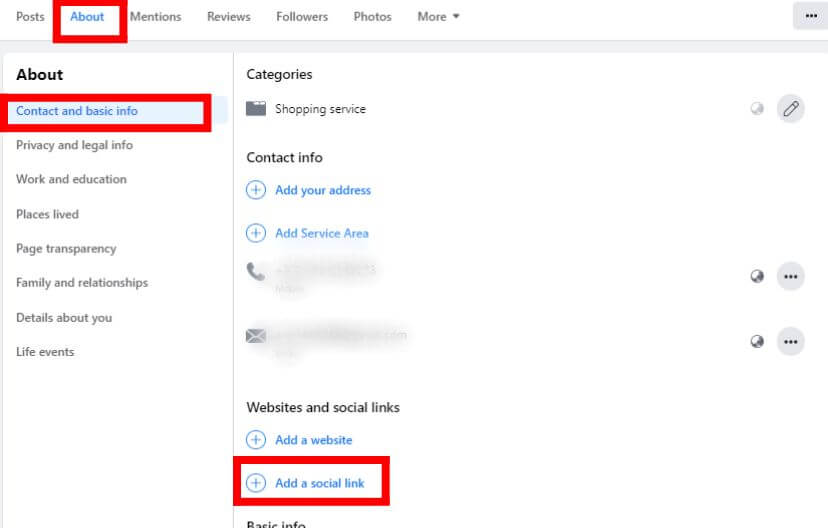 5. Choose Pinterest from the dropdown menu.
6. Write your Pinterest username in the textbox.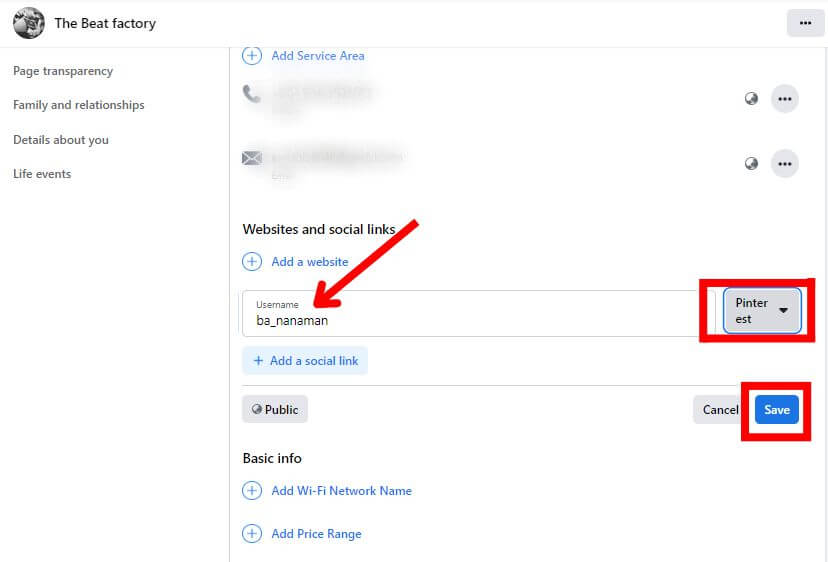 7. After that, click on the Save button, and it's done.
How to Add/Share Pinterest Pin to Your Facebook Page
If your page is excelling on Facebook and you want the same results on Pinterest, you can simply share your pins on your Facebook page.
Doing so will boost your pins and increase traffic along with visibility. Sharing posts from one platform to another is like trading viewers to increase reach in a particular platform.
And the more the reach, the higher the chances to foster your business.
But do you have any idea how will you do this? If not, you're at the perfect place.
We'll assist you with how to add/share your Pinterest Pin on your Facebook page.
Now, follow the step-by-step guidance to share a Pinterest photo to your Facebook page:
1. Open a web browser on your PC or Pinterest mobile app and ensure your account is logged in.
2. Go to the pin you want to add/share on your Facebook page.
3. Tap on the share icon beside the three dots.
4. After that, it will provide you with different social media to share; click on Facebook.
5. For that, you need to switch to your personal account, so click on continue.
6. There, you can see various options to choose. However, you should click on Share to News Feed or Story, which will lead you to a drop-down menu.
7. Now, click on Share on the Page you manage.
8. Lastly, click on the Post to Facebook button, and it's as simple as that.
Alternatively, you can copy and paste the pin link on your business page post.
Why Connect Pinterest to Facebook Business Page?
Connecting Pinterest to your Facebook business page is like sending invitations to crucial aspects responsible for promoting your business on these platforms.
It escalates the number of audiences, visibility, and engagement on your content. Why wouldn't it?
You can simply share your boards and pins with your Facebook audience within a few clicks.
With both platforms connected, you can enhance your branding and marketing with broader social media marketing.
Wait, there's more to it. If your business is organizing some sort of event, you can promote it to a wider audience.
What's more fascinating is that linking Pinterest to your FB business page can work as an analytical tool. You can examine the content preferences of audiences on both platforms and create content accordingly.
Given all these opportunities, what more can you do to advance your business online?
FAQs
Can I Link My Facebook Page to Pinterest?
No, you cannot link your Facebook page to your Pinterest account. Indeed, FB lets you link to different social media, including Pinterest, but no, there's not a single chance on Pinterest.
Can I Use Pinterest Images on My Facebook Page?
No, you cannot use your Pinterest images on your Facebook page. You can only use it after buying the right to use it from the owner of that image content.
Can I Add a Pinterest Button to My Facebook Page?
No, you can't add a Pinterest button on your Facebook page. You only have access to link the app and share its posts or content on FB.
Conclusion
Coming to the end, it's very easy to link Pinterest to your Facebook page. Not only this application, but you can also link TikTok, Twitter, and many other applications on your FB page. However, you cannot link your Facebook page to your Pinterest account.
Besides that, you can also share pins on your FB with relative ease. With all that access, there are huge merits of connecting these platforms. So, you better give it a shot.
We hope our information and guidance will be a great help to you. If you have some spare time, learn to add photos to your Facebook page album.