Facebook never fails to please its users with its newest features. And before we could ask them for more, they introduced another feature that allows users to add a shop button on their Facebook page.
If you have a Facebook page and you intend to utilize this feature, it might be a big plus point for your e-commerce business.
And before you ask why to set up the shop now button, why not?
Adding a shop button is like taking a step ahead to improvise your online business page.
Not only will it benefit your business, but it will also be convenient for your customers to purchase your products or services.
In fact, everyone would love to buy a service or product within a few clicks rather than ordering.
The best part of this feature? Customers can order much quicker, so you will get your payment faster.
What is Shop Now Button on Facebook?
The Shop Now button on Facebook is a feature that directs your customer to your digital store once clicked.
Unlike adding a WhatsApp and Donate button, this Shop button serves a different purpose on Facebook.
The main purpose of this feature is to help active customers confirm their orders with less time consumed.
To put it simply, this is a quick-sell and quick-buy business process. Before this feature got introduced, both online customers and sellers used to have serious problems.
And the most common problems were improper communication, product inquiry, and order confirmation. Now that this feature exists, buying and selling process is done within a few clicks on the screen.
Everything about the product is mentioned as a short description with an image; the choice is of the customers whether they should buy or not.
Can You Add a Shop Button on Facebook Business Page?
Yes, you can add a shop or buy now button on your Facebook Business Page. As a matter of fact, this feature is presented by focusing primarily on FB pages.
Once you create this button, customers will flood into your online store as it will provide easy access to your digital store.
Thanks to this feature, FB business activities have been much more efficient and effective.
Who would have thought the business platform and its services on Facebook would grow so drastically?
People all over the world can buy their essentials just with the help of this tiny little button.
How To Add Shop Button on Facebook Page: Step-By-Step Guide
You might have been confused while setting the shop button on the Facebook page, but it's not complex at all. However, this means it is as easy as changing a profile picture; the process is riddling.
Follow our process step-by-step, and you'll get how it's done.
Via Desktop
1. First of all, open a web browser on your PC and go to the profile at the right end.
2. Now, open your Facebook page.
3. Press on the three dots menu from the right side of the screen.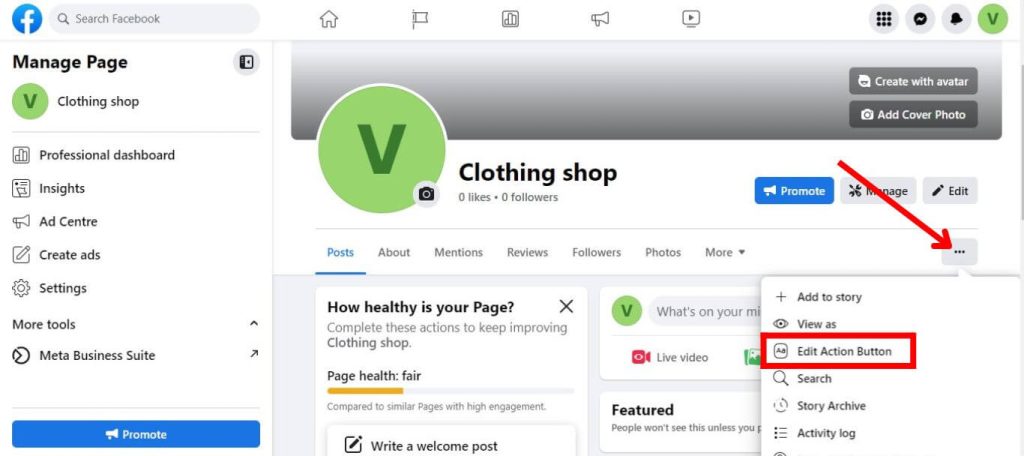 4. Click on the Edit Action Button. If you're using this feature for the first time, you'll be directed to the "Customize your action button" section; just press the Try It button.
But if you've already used it, it automatically enables you to edit that button.
5. After that, there appear five different options; Book Now, Sign Up, Start Order, View Shop, Get Tickets, and Buy Now.
Let us briefly tell you about all these features because it's very crucial stuff that comes your way while adding the Shop button.
Cutting right to the chase, Book Now is for booking/reserving services and products.
The Sign Up Button is for the registration process. It provides a link that takes you to a website for sign form.
The Start Order is for hotels and restaurants to order food and beverage.
The View Shop Button is for easy access to buy and sell products, as we've stated earlier.
Likewise, the Get Tickets Button is for booking flight and film tickets.
6. However, you should select the View Shop button to add Show Now. You can also select Buy Now button too.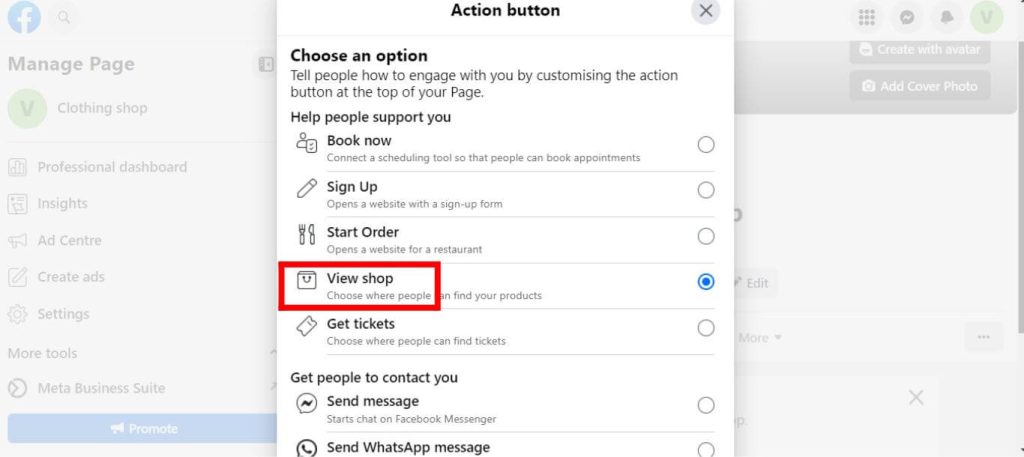 7. Following this process, you'll get access to three different features: Shop on Facebook, Connect to Another tool, and Link Website. But which one shall you choose? Let us help you!
Shop on Facebook
This feature is for the pages that want their customers to shop directly on this platform.
So, if you find this option suitable for your business page, tap on Shop on Facebook > Next > Continue (to switch with your shop account) > Next.
After this, you need to go through the checkout method. In this part, you'll have two options: Checkout with the Website and Check Out with Facebook or Instagram.
Click on Check out with Facebook or Instagram > Next.
Now comes, Choose sales channels section. Select your shop page > Next. Add products you want to sell along with delivery destinations.
Next, Accept the terms and agreements of Facebook's Seller Agreement. And lastly, click on Finish Setup.
Before applying for this process, you must have an account that has access to the Facebook Shop.
Connect Another Tool
Now, this is another process by which you can sell your products and services directly on Facebook. With this feature, you can connect other tools like BigCommerce, Easystore, Shopstore, etc.
Well, if you want to get a Shop Now button on Facebook with this option, tap on another tool and select one. By doing this, the tool will be linked to your Facebook Shop Now button.
Remember, you should have access to any platform as a merchant that sells the same services/products that you want to sell on FB. Or else, all your effort setting this up will go in vain.
Link on Website
If you prefer setting your web store on your Facebook page, Shop Now button, Link on Website is the best option.
For that, select Link on Website > Next > Paste the website link > Save. Now, your Shop Now button is ready.
Note: You should have a website for this feature to work on Facebook.
Via Mobile App
1. Open the Facebook app on your mobile phone.
2. Go to the three horizontal lines in the top right corner.
3. Go to your profile and tap on the three dots located on the right side of Manage.
4. Now, click on Add Action Button and press Edit Button.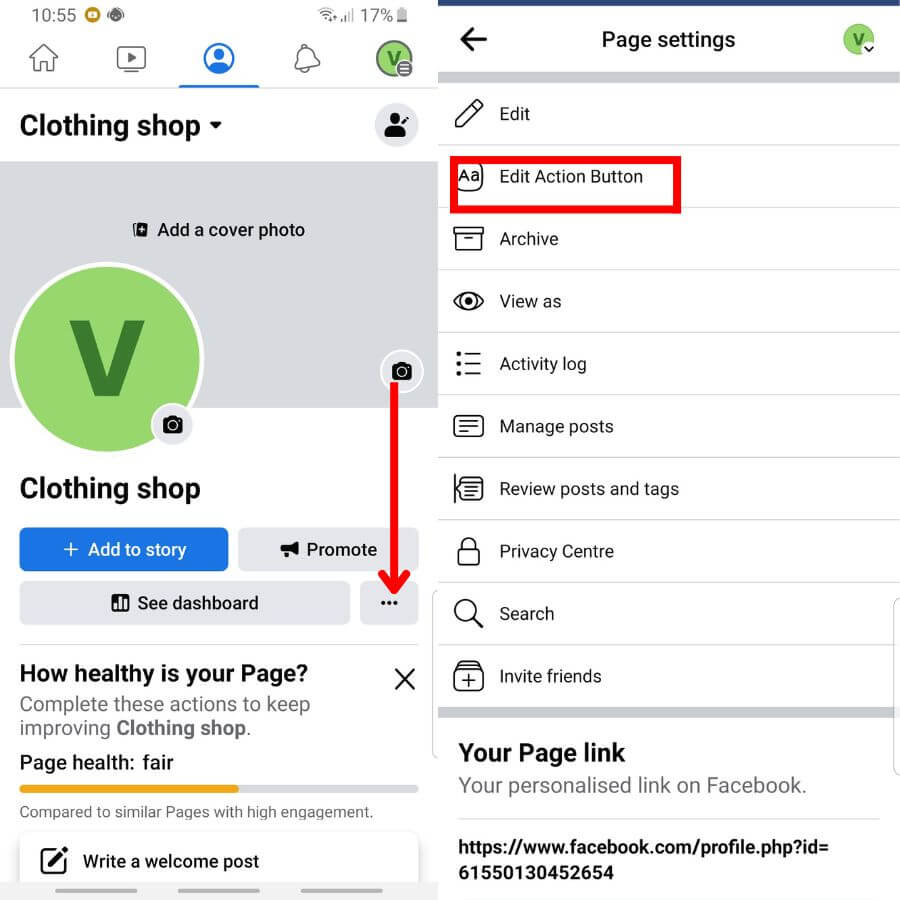 5. Then, tap on the View Shop or Buy Now button.
6. There appear three options: Shop on Facebook, Connect another tool, and Link on Website.
7. You can select an option that you prefer the most. However, we recommend you choose Link on Website as it is a very effective and fast process.
8. For that, copy the website URL and select Link on Website.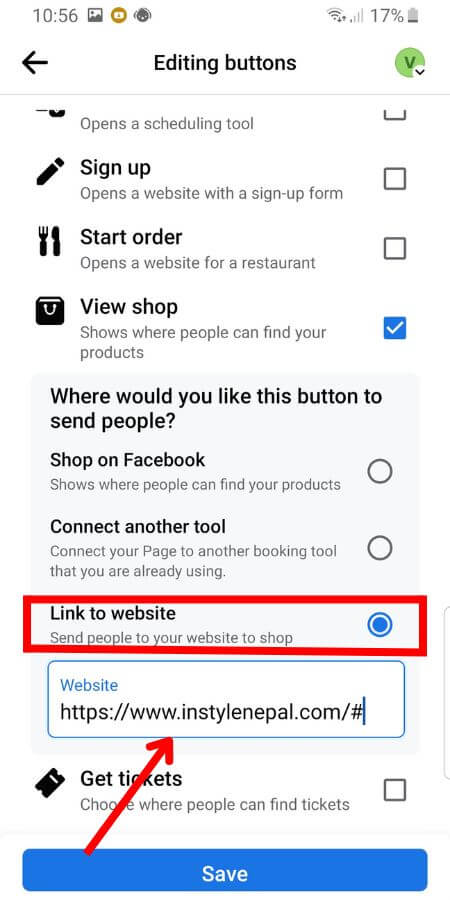 9. Now, paste the link, and it will take a few seconds to verify it.
10. After verification, click on the Save button, and it's simple as that.
No matter what smartphone you have, this process works on both Android and iOS devices, such as iPad and iPhones.
Where is the Shop Now Button on Facebook?
The Shop Now button is on the profile of the Business page. It's located on the right side of the screen and below the cover photo.
Despite having myriad features and services, Facebook has set this button in a perfect place where users can easily access it.
Well, the business page itself cannot see that button directly, but the customer or any other user can see it. However, there is an alternative way with which a business page can watch its own page with the customer's view.
Once you see the Shop Now button section, just click on it and go on a shopping spree.
How To Remove Shop Button on Facebook Page?
No matter if it's online or offline, every business goes through a phase where they get stumbled upon a problematic situation.
And the worse that can happen is a stop in the business. What if a similar issue arises in your business?
The answer is obvious; you need to remove your shop now button from your profile and announce an apology for the inconvenience.
Asking for an apology is similar to posting text content, but how will you remove the shop button? Let us guide you thoroughly!
1. Open FB on your Smartphone/PC and press on three horizontal lines beside notifications.
2. Then, switch to your business page.
3. Click on the three dots below the Edit icon.
4. After that, click on the Edit Action Button, and you will see two options; Change button or Delete button.
5. Now, tap on Delete Button and Confirm. Then, the shop now button will be removed.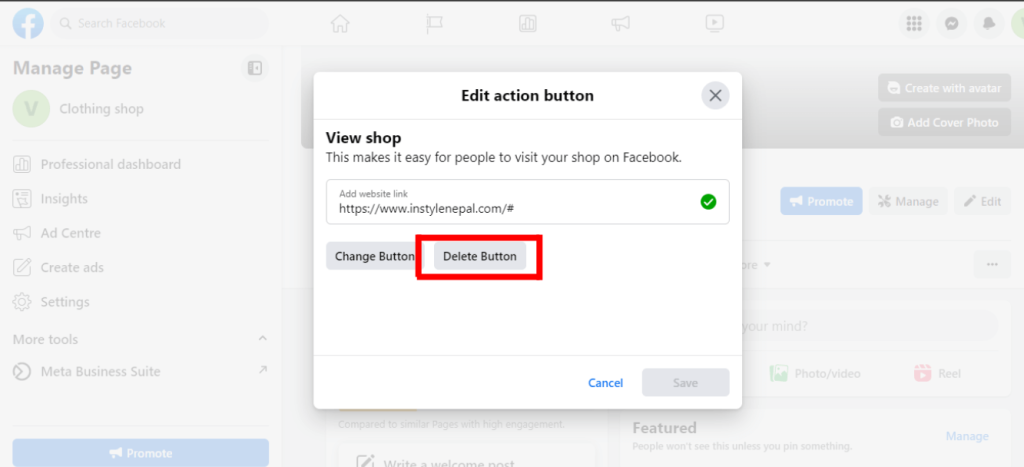 How To Add Shop Now Button on Facebook Posts?
While you need to go into the business profile and add an Action Button to enable the Shop Now section on the Facebook page, it's a totally different process on posts.
Here's how you do it:
Note: If nothing, you should remember two major things before you start this process:
1. You should know that you're doing this process with the Call-To-Action button. And the list of C-A-T buttons that you are able to access is different based on your campaign goals.
2. You can't add a C-A-T button if you add an Instant Experience to a particular ad. And there's very good reasoning behind it.
You should go to the Ads Manager and create a campaign. You will be offered five campaign objectives: Traffic, Awareness, Engagement, Leads, and Sales.
Pick any you prefer and set up the audience, budget, placement, and schedule for the ad.
With that done, you'll get two options; Where to run ads, Facebook or Instagram?
Since you're adding Shop Now button on FB, we recommend you select Facebook.
After that, choose the text, photo, or video for the ad and click on the C-A-T button that will give you access to a drop-down menu.
There, you can see the preview of Shop Now on the Ads. But you should go through a little different process if the intention of your ads is to raise donations or awareness.
For awareness, you need to tap on Add a Destination and choose the Website to reveal the C-A-T menu.
On the other hand, you should register your donation-receiving organization with FB payments if you want to add Donate Now button.
Lastly, Publish to start your ad. And when your ad runs, customers will finally see Shop Now button on the post.
FAQs
Why Can't I Add a Shop Now Button on my Facebook Page?
You can't add the Shop Now button on Facebook because it has been replaced by five other features: Buy Now, Book Now, Sign Up, Start Order, View Shop, and Get Tickets.
Can I Add a Shop Tab to my Facebook Page?
No, you cannot add Shop Tab currently on Facebook Page because the View Shop button has taken over it. Indeed this feature used to be available before, but it's not available anymore. Instead of this you can use Buy Now feature.
Can I Add View Shop Button on the Facebook page?
The short answer is yes; you can add a view shop button on the Facebook page. And once a user clicks on that, it'll direct them to your digital Shop on your Business Page.
Why is My Facebook Shop Now Button Not Working?
Your Facebook shop now button stops working sometimes because of some minor bugs and glitches. So, make sure you clear the cache data to get rid of this issue.
Can I Add Shopify Page Link on Facebook Button?
Yes, you can absolutely add a Shopify page link on Facebook. To do so, you can go to page profile > three dots > Add Action Button > View Shop > Link on Website > Paste your Shopify web page link.
Conclusion
All in all, adding Show Now button on the Facebook page has made businesses smooth as butter while also letting customers buy different products and services easily.
This feature is really a time-saver for users. While following this process, you'll also learn how to change page categories on a Facebook Page.
If you are interested, also learn to post on someone's timeline.