The bigger the audience, the higher the possibilities to foster your business on Facebook. And nothing better can be done to gain diversified audiences than merging two giant platforms. So, don't bother thinking twice and link your TikTok to your Facebook business page.
Tying a knot between these two Mega platforms can offer your a golden opportunity to reach a wide range of viewers.
Moreover, connecting this platform to FB can add a professional impression on your page and make it more appealing.
So, in this blog, we will assist you in linking your TikTok account to your Facebook business page in the easiest way possible.
Can you Link TikTok to your Facebook Business Page?
Yes, you can link TikTok to your Facebook Business Page. And if you haven't linked it yet, you are missing a very good opportunity, as it is one essential factor that can help you grow your business.
Connect your TikTok account on Facebook, and it'll help you in the cross-promotion of your business.
Mainly, there is only one way to add a TikTok profile link to your FB business page. But there's also an alternative way that you can utilize.
The primary way to connect your TikTok account to FB is through the Add a social link feature. And not only this app but you can also link Threads, Instagram, WhatsApp, and many other social media with it.
Talking about the alternative method, you can also use your bio to link this application to your FB business page.
However, a bio is not for connecting social media accounts; its purpose is to define a certain user or page.
So, Facebook doesn't favor this choice as they present a feature that is only used for linking social media.
Still, they won't interfere with you in this case; it depends upon your preference for which method to choose.
How to Link TikTok to Facebook Business Page
Before we start this, know that adding a link to your Facebook Business Page is no big deal. Just make sure you know the username of your TikTok account.
Here, we'll provide you with a step-by-step process to connect it on a mobile phone and Laptop. This can help you add this feature depending on your device.
On Mobile App
To link TikTok with the Facebook business page using a mobile app (Android or iPhone), follow the following step-by-step process:
1. First of all, Open the FB app on your smartphone.
2. Tap on the three horizontal lines at the top right and switch to your business page.
3. Tap on the three dots menu beside Manage on your profile page.
4. Click on Edit above Edit Action Button. You can add the Shop Now, donate button, website, email now button, and more from the action button.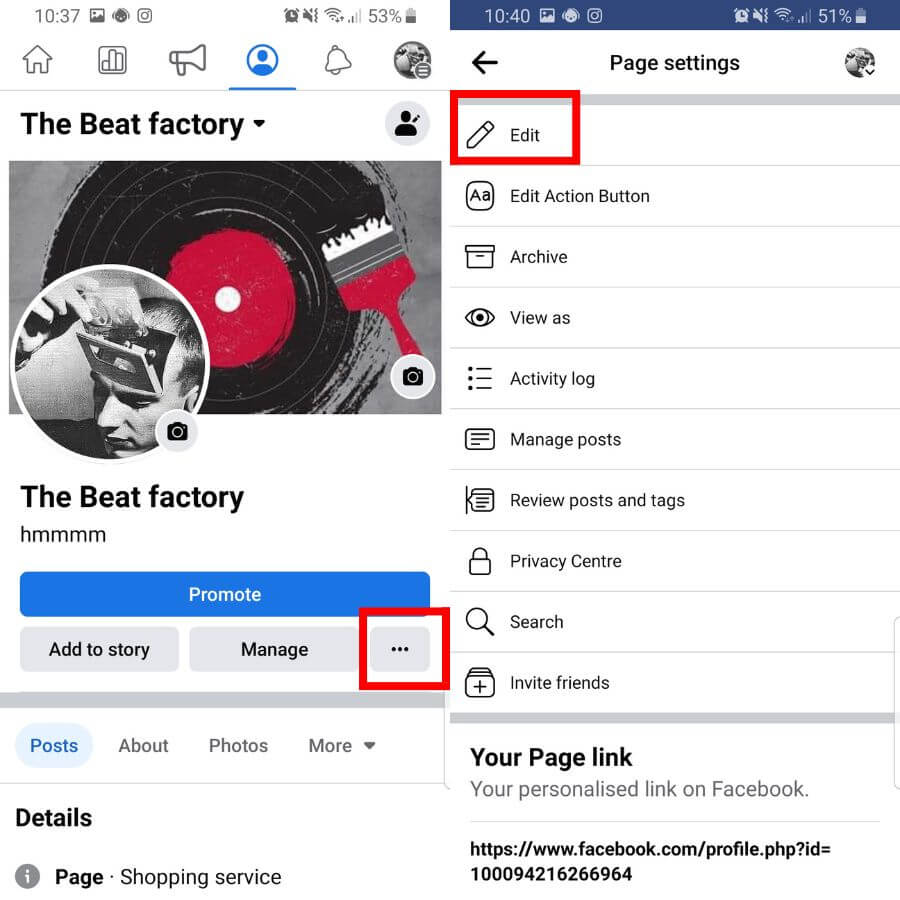 5. Swipe down a little and click Add in the Links section.
6. There, you get two options; Add Social Links and Websites. Tap on Add Social Link.
7. Now, tap on the platform, and it will provide you with a drop-down menu of different social media platforms; select TikTok.
8. Press on the Username text box and write your username.
9. Lastly, click on Save, and it's done.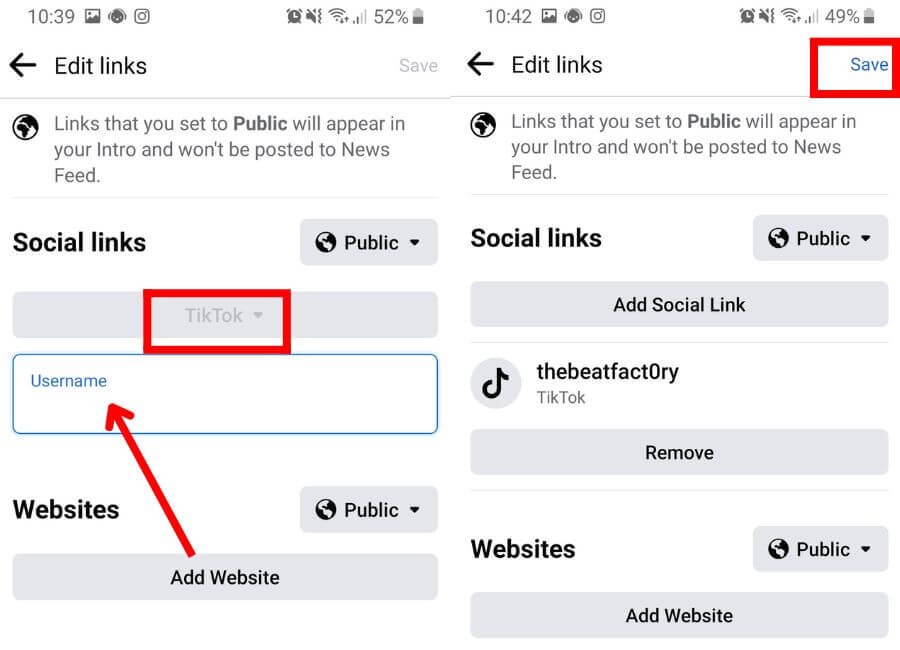 On Desktop Web App
Follow this method step-by-step to link your TikTok profile with your Facebook page on a computer(Windows or MacBook):
1. Open Facebook.com on your PC through a web browser and make sure you're logged in.
2. Tap on Account on the top right side.
3. Switch to your Facebook business page.
4. Press About and tap on Contact and basic info. From here, you can add various features like adding service area, business address, phone number, email address, and more.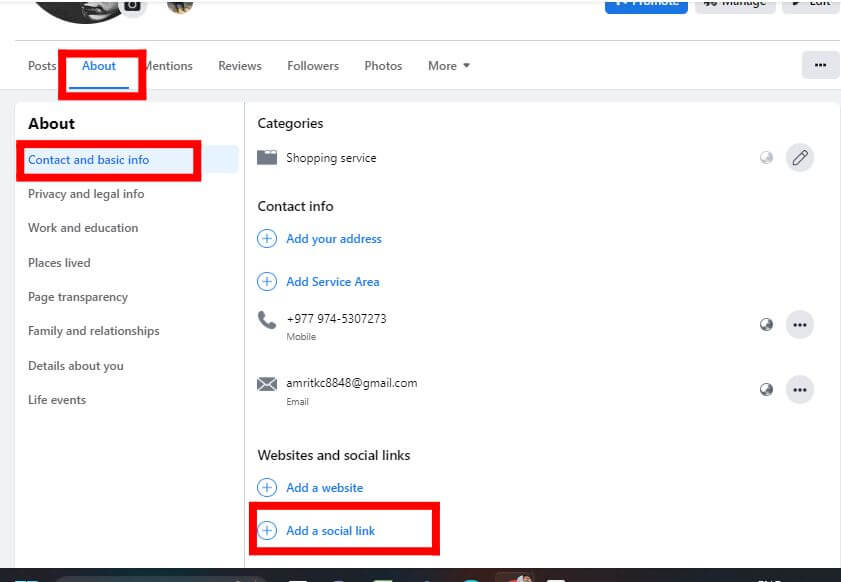 5. Scroll down a little and click on Add a social link.
6. Click on the drop-down menu at the right side of the username textbox and select TikTok.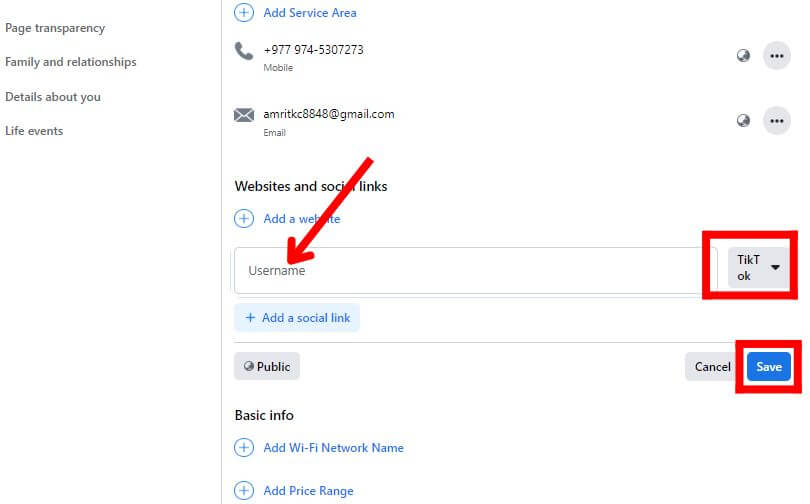 7. Write your username inside of the Username text box.
8. Lastly, tap on the Save button, and it's simple as that.
How to Add TikTok Video to Facebook Page
Indeed you can automatically add videos on Facebook when you post on Instagram and Snapchat. But it's not the same case on TikTok.
Unlike Instagram and Snapchat, Facebook doesn't have built-in sync with it. However, that doesn't stop you from adding TikTok videos on Facebook.
You need to go through a specific process to add TikTok videos to your Facebook page. And if you don't know, let us show you how it's done:
Note: You should download the TikTok video that you want to add to FB before following this process:
1. Open the Facebook application on your mobile phone.
2. Switch your account to your business page.
2. Tap the image icon on the right of What's on your mind?
3. Now, select the TikTok video from the gallery you downloaded.
4. After you've selected it, tap on Next.
5. Then, you enable collaborators, schedule when to post, manage comment accessibility, and share with other groups. But if you don't want to change anything, simply tap the Post button.
For desktops, the process is just slightly different compared to smartphones. You just need to tap on the image icon > Add photos/videos > Select the video > Post.
Can you Link your Facebook Page to your TikTok Account?
No, you can not link your Facebook page to your TikTok account. Unlike Instagram and YouTube, you have no access to connect your Facebook page or account to the immensely popular short-form video app.
Well, if you wanted a TikTok account to connect to Facebook, you could do it by using add a social media feature or pasting your profile URL on your bio.
But if you're trying to link your FB page to TikTok, you won't stand a chance; it has slammed the door right in your face.
FAQs
Why Can't I Connect TikTok Account Link to Facebook Page?
No, it's not that you can't connect your TikTok account to your Facebook Page. There might be some technical issues or minor bugs getting in your way. Close the app and restart it once, and if that doesn't work, check out for the update.
Where is TikTok Link On Facebook Page?
The TikTok URL which you added appears on your page profile. But its exact location varies based on the device you are using. If you're using a computer, it appears in the Intro and About section, whereas if you're using a mobile phone, it appears only in the About section.
Conclusion
All that said, both TikTok and Facebook are popular worldwide applications with impressive numbers of daily active users.
And this is a splendid chance for you to foster your business by linking your TikTok account to FB. So, shoot your shot already.
We hope you understand how to link the TikTok page to the Facebook business page. If you're interested, also learn to add a bio on the Facebook business page.