Font icons are important elements for the UI/UX designer. They are used to represent the article or used as the best replacement for the image icon. These icons helps make web page more attractive and clean.
Font icons are easily customize as they behave as a font. Font size, color, background property of fonts works in font icons too. We can find varieties of icons in the internet. There are free and paid versions to these icons but one can get their desirable icons easily. One of the main point for using these icon is the varieties in between single icon name. For example, if you search for icon of Home then you can get lots of icons that indicates home.
Fonts icons helps to make web pages more attractive with it's design. There are lots of websites that provides the font icon. Those icons can be used by using CDN in the web page. UI/UX designer mainly prefer these icons due to its size. As these icons are font so they occupy small size in compare to image icon. This helps to make web page loading time less and sometime image might not load in slow connection so font icons overcomes this problem. Mostly we use CDN link for font icons which makes icon to be available easily.
Related:
10 Best JavaScript Libraries For Front-End Development
Top 9 Web Design Trends in 2019
Best Website UI Design Software for Designers
The 13 Best Free Icon Fonts For Web Designers
As I have mention above, there are lots of websites that provides us with font icons, below we have list of most popular websites for font icons.
1. Font Awesome
The icons available in the Font Awesome is infinite. There are lots of icon with lots of option for single icon name. The icons are design by designer form the scratch with the years of experience. Icons are better looking with smooth design that makes web page attractive.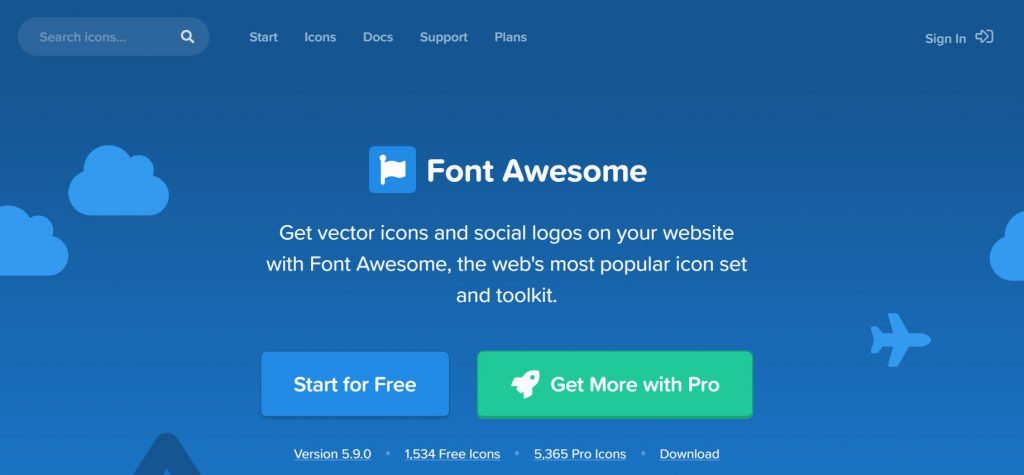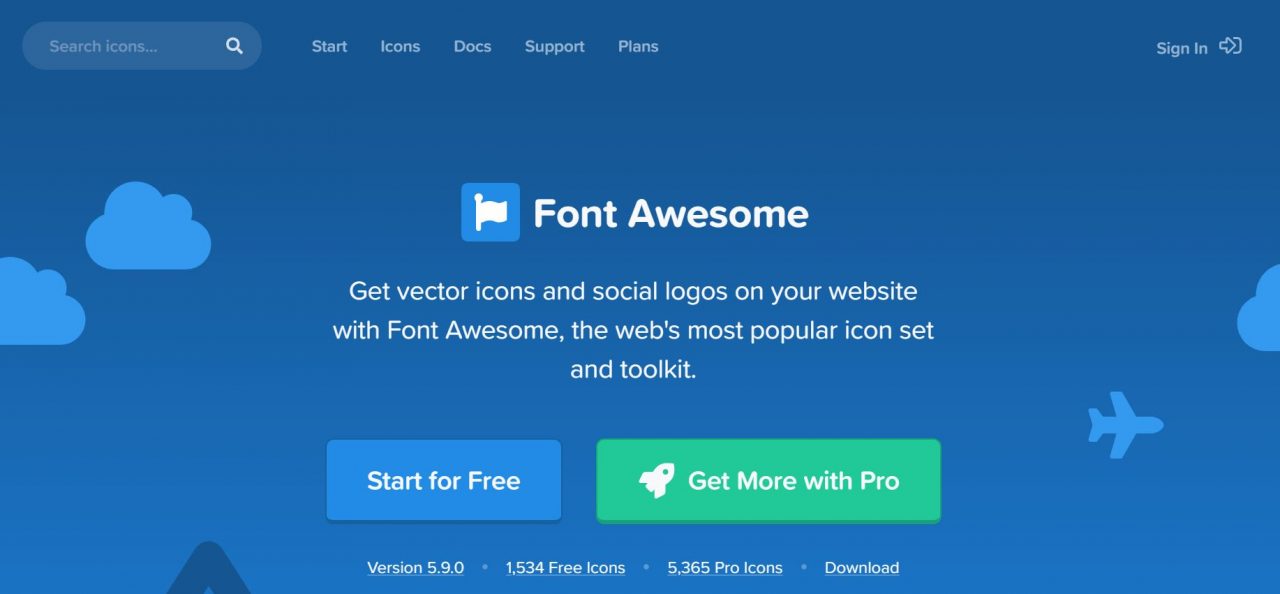 There are more than 5,000 icons available and the icons are continued to added more and more. Icons are for every fields. For technical, medical, business etc. every kinds of icon can be found here.
Font Icons from Font Awesome are easy to use in web page. They can be resize, add a style or add animation on them. To use font awesome icon you just need to use CDN of font awesome in your web page. Then add one line code of the icon you need. That's all you need to do to use font awesome.
2. Material Design Icons
Material Design Icon are the smooth, simple and attractive icon design. The design of these icon are the pure outcome from the expert in UI design. The organic and universal concept is used for the icon creation which makes the icon simple and minimal in design.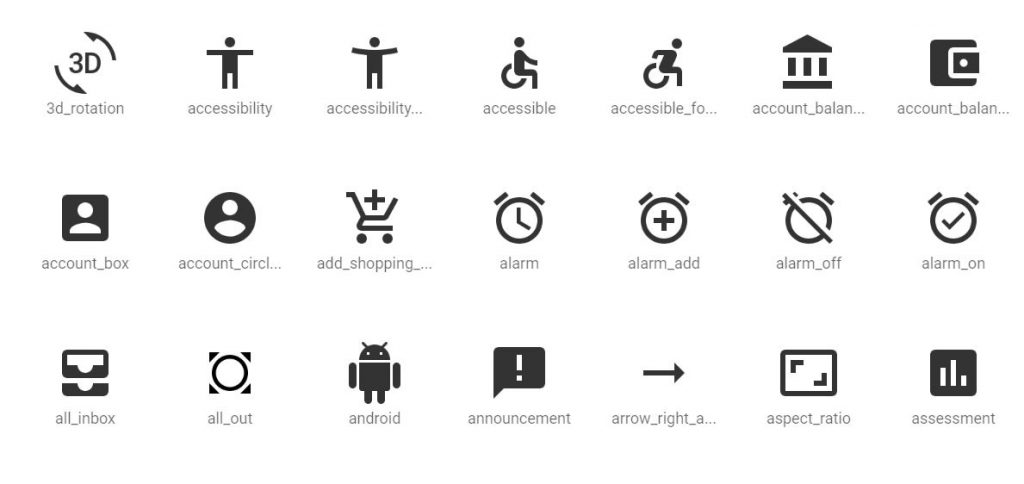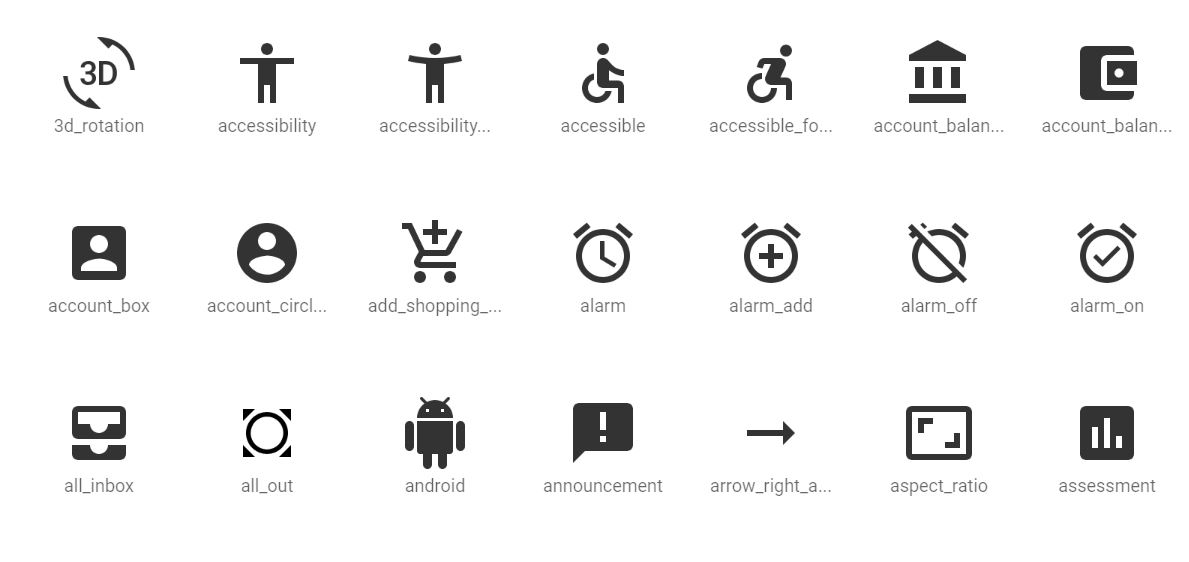 The icon is adjustable for any sizes. It can fit both large as well as small sizes, making perfect for UI/UX designer. Icon have been optimized for smooth looks and resolution.
The icons are available for development of websites and mobile apps. User can download the icons from the material icon library in SVG or PNG formats. If user want to download whole sets of icon then they can visit the GitHub repository of material design icons.
3. Fontello – Icon Fonts Generator
Fontello is the icon generator as well as the font icon's library. Its a tool for vector images into web fonts. It builds most of the graphics that are essential for your web pages. Vector graphics are used in the font icons. There is no pixelation in the high resolution if we use vector graphics. These icons are highly supported by the browsers too.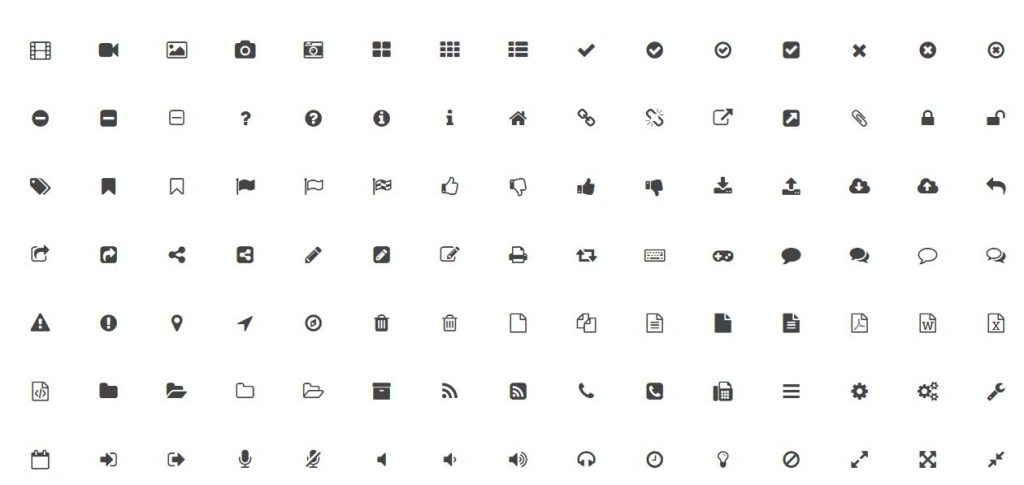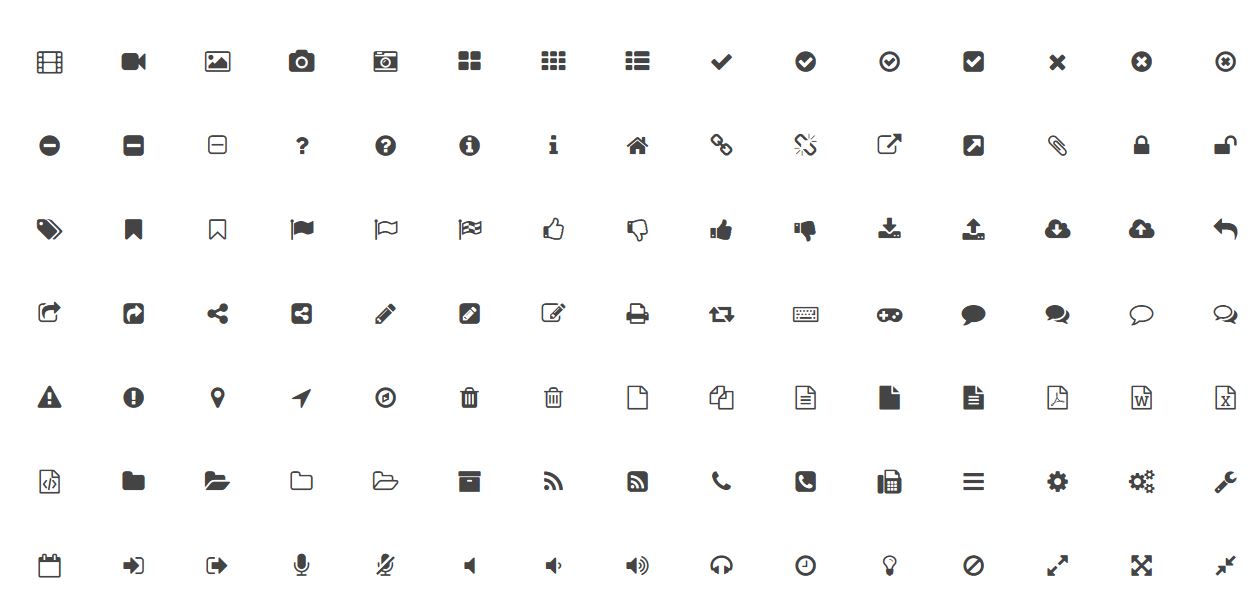 The color are single color in this font icons. This is one of the demerits as there are methods to make it multi-color but designer nowadays prefer single color too.
The multiple choice are available for the font icon in fontello with customization option.
4. Ionicons
Ionicons's icons are beautifully design open source icons for the use in web, iOS, Android and for desktop apps too. It have support for SVG and web font. The fonts icons of Ionicons are completely open source, MIT licensed. Icons are design and built by Ionic Framework team.
Ionicons have multiple choice of icons with easy look up for the particular icon. You can just search the required icon by its name. You can use the icon by linking its CDN to your project. This font icon automatically uses correct version based on your platform.
Icons are easily customizable. If you want to change size of the icon then you can use size class in the icon code line. Also you can use custom CSS to apply style to the icon.
5. Ligature Symbols
Ligature Symbols is the font icon developed by the Web designer in Kyoto. This Symbols is special fonts that uses ligature features to display the symbol. The designer created this font by using FontForge which is basically open source postscript font editor.
This font is released under the OFL license. The download and usage instructions are also introduced. You can try the font immediately in the input form at the top of the page.
Chrome, Safari, Sleipnir for Mac, Firefox, iOS-Mobile Safari, Android Browser have been confirmed to support this font icon.
6. Dripicons
Dripicons is the font icons with lots of available icons in its pocket. Icons are clear and smooth with attractive design.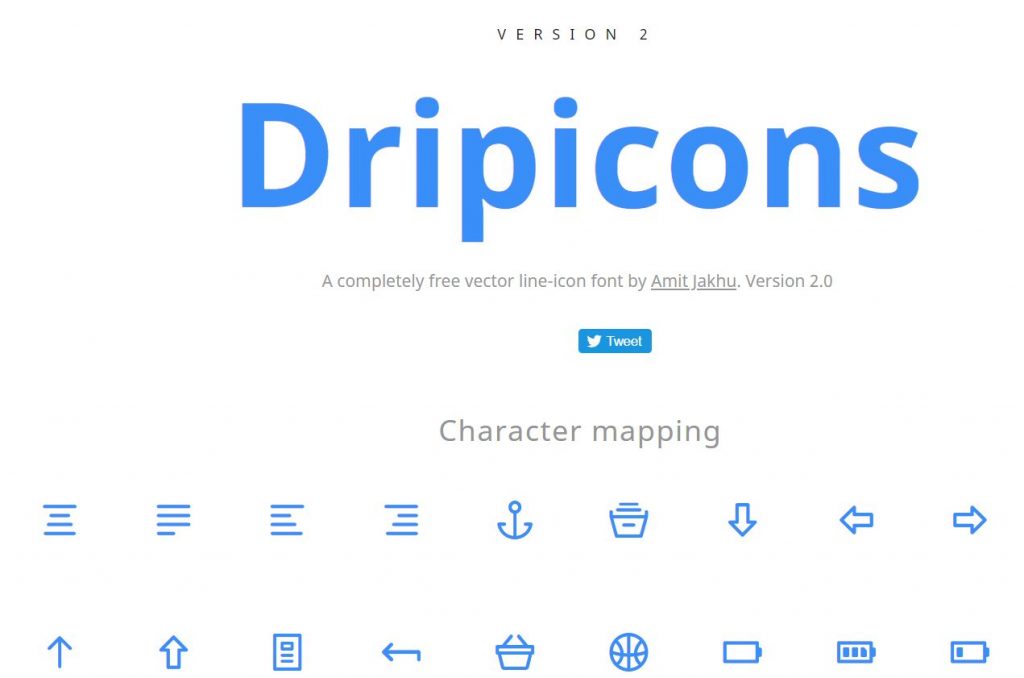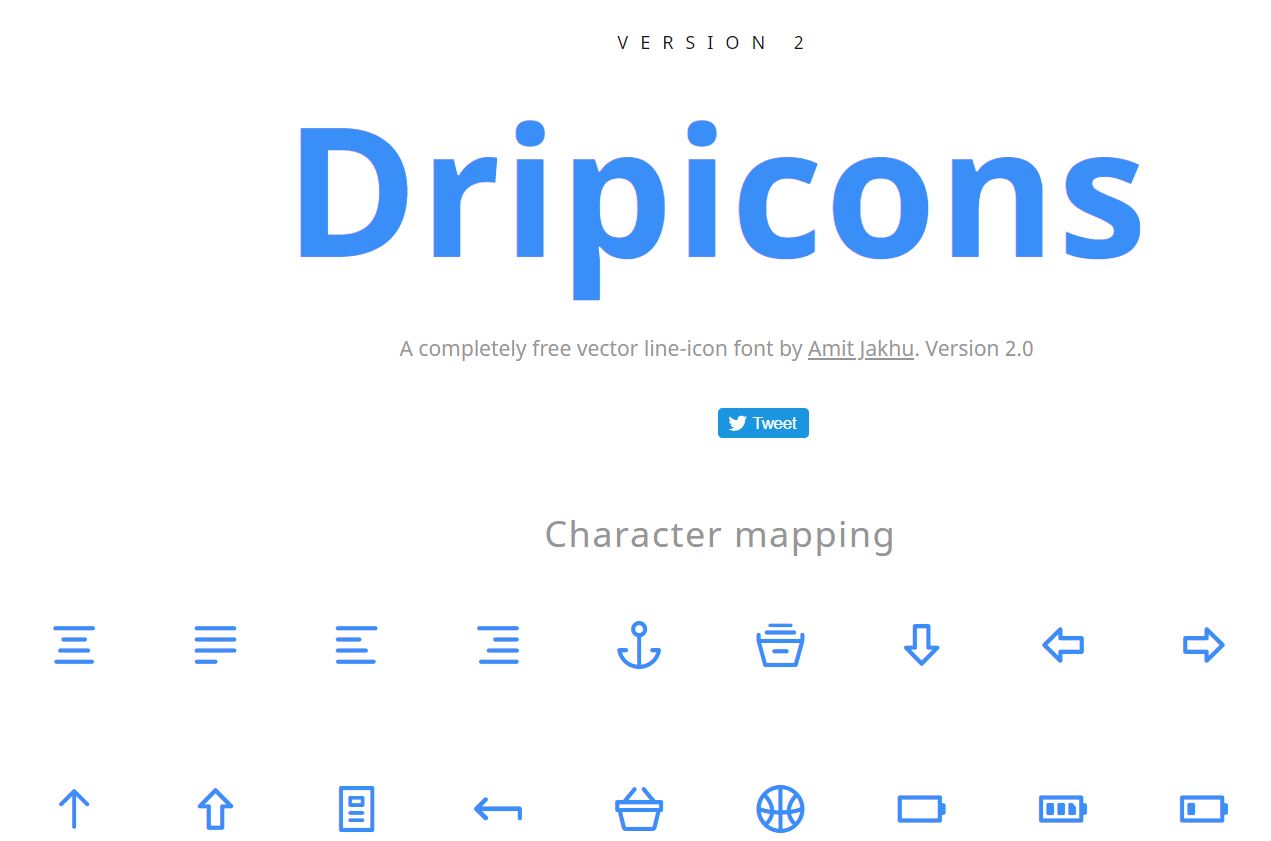 This font icon was created using Fontastic. The latest version of Dripicons is 2.0. The latest version is licensed under Creative Commons Attribution 4.0 International License and font under SIL Open Font License.
7. Foundation Icon Fonts
Foundation Icon Fonts are simple icon, with lots of creative work you can perform on it. The icons can be played with custom CSS . You can resize it, change color and use any style available in CSS.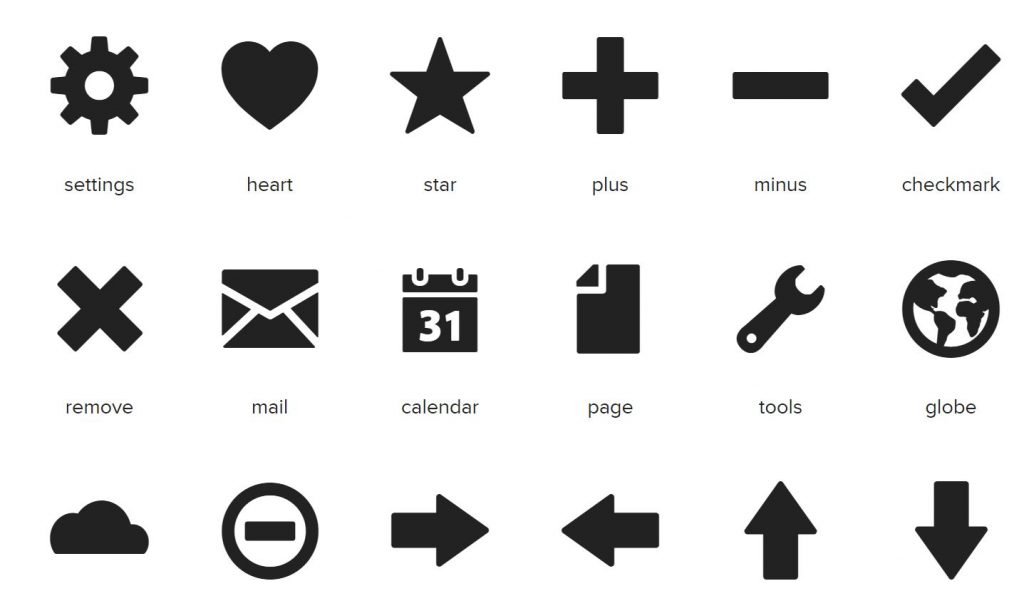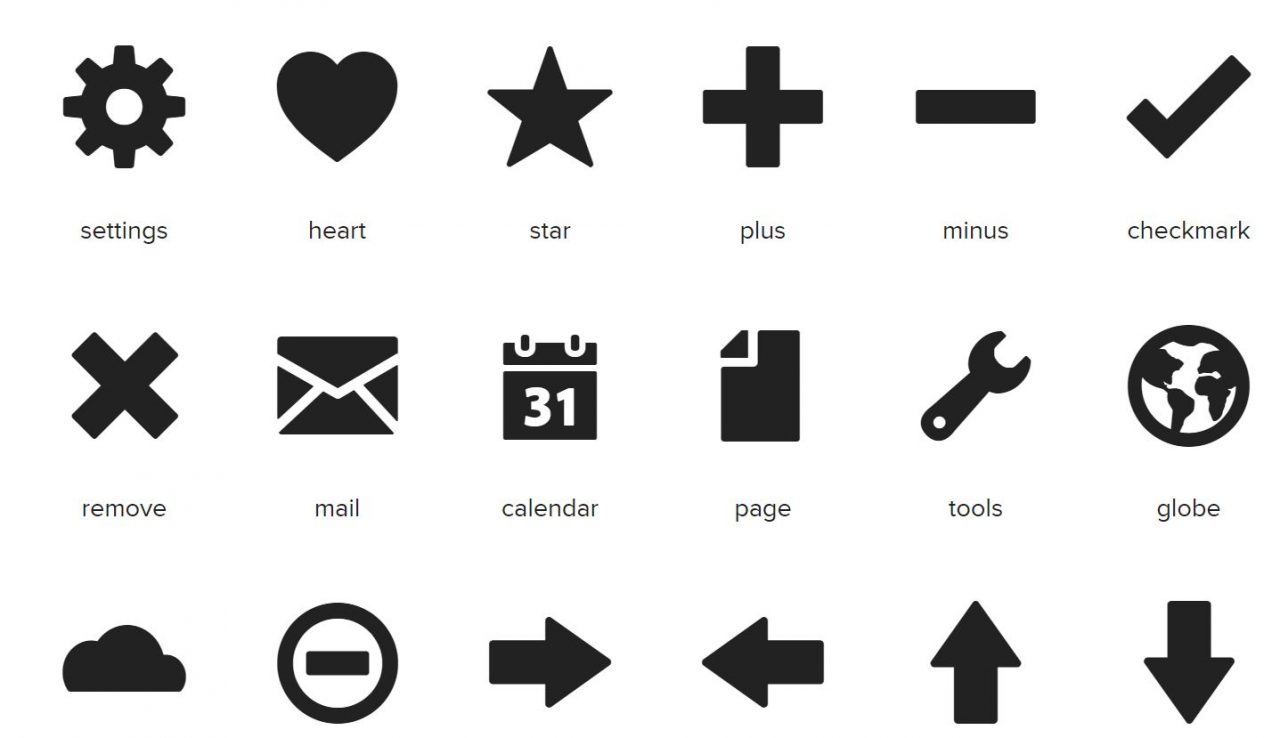 The new release is Foundation Icon Fonts 2 which have more consistent look and have lots of new icons to the stage. The web fonts are handy with custom icons. The use of CSS and markup will make the use of font icon much usable and perfect.
8. Entypo+
Entypo+ is the pictograms with premium quality. It doesn't come as a font anymore but can create your own using the SVG images. The use of Entypo is easy as well. It is released under the license CC BY-SA 4.0. The icons for Entypo has been drawn for pixel perfection at a size of 20 x 20 pixels and with a very consistent style.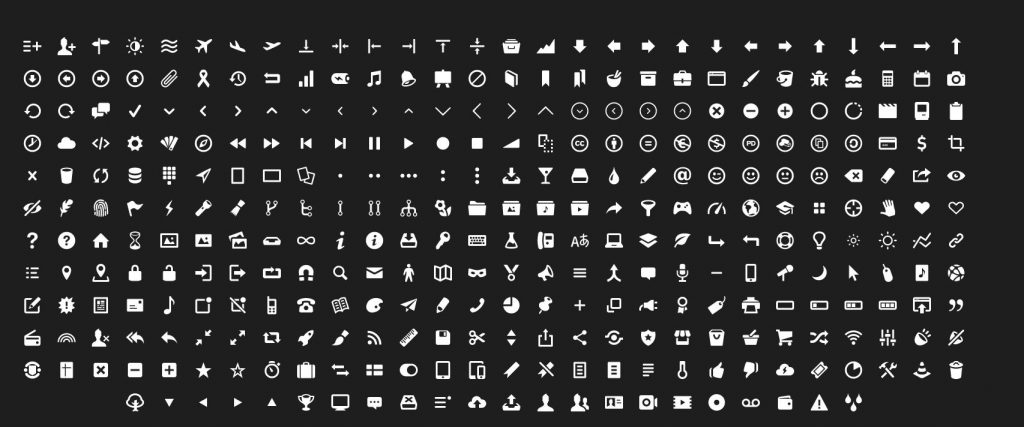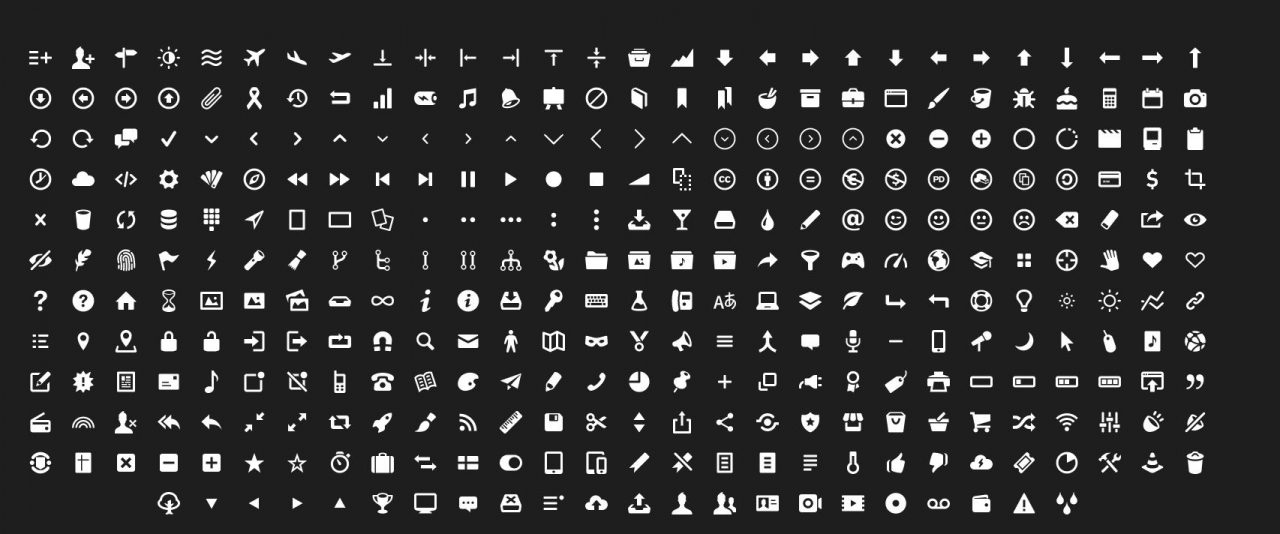 It can be used for magazine or as web fonts. You can use InDesign for the magazine. This is free for commercial use. Entypo is simple looking icons with many option available. Entypo team have been updating their work to add more and more of this pictogram to the list.
9. Zondicons
This icons are used for designing a social application, a music player, a content editor or need a detailed map. Zondicons have geometric shapes that make them stand among rest by making it suitable for playful application or for professional use.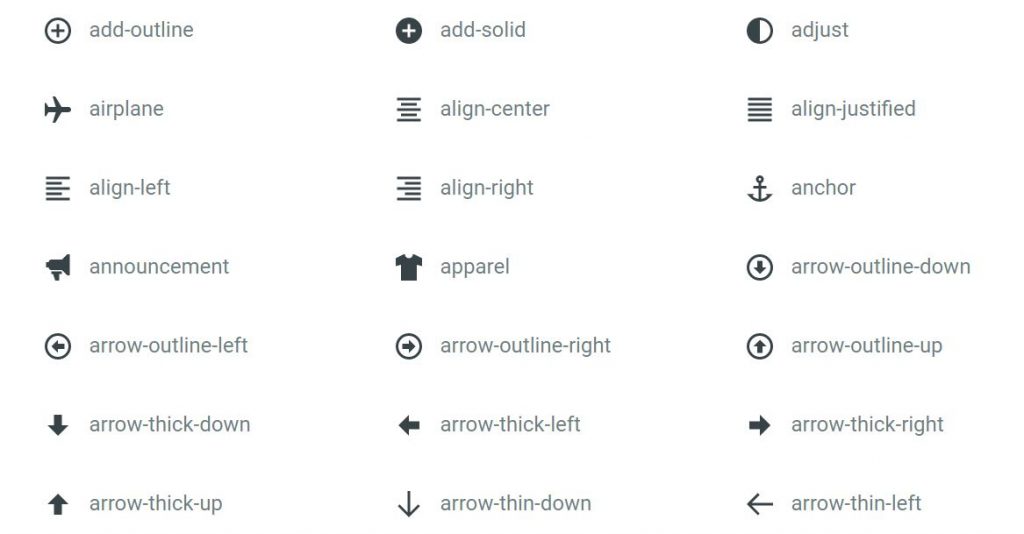 This icons adapts to every kind of screen resolution. They can be resize to support every display too. Zondicons have sharp edges but smooth corns. They are supported by all known browser.
You can download and use the icons for your project from official site of Zondicons.
10. Octicons
Octicons are the SVG icons developed by GitHub for GitHub itself. The vector diagram of icons are stored in a Figma File.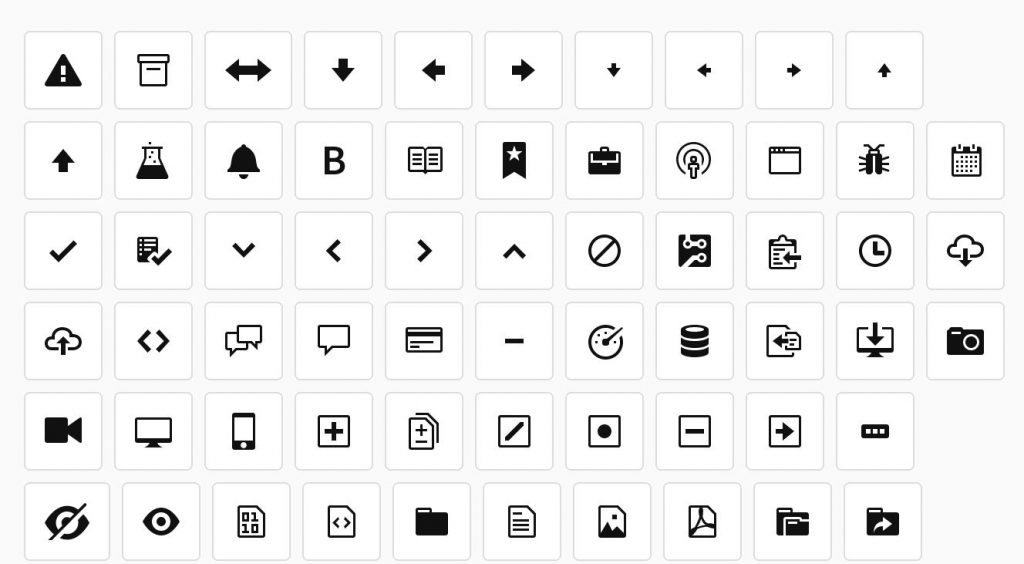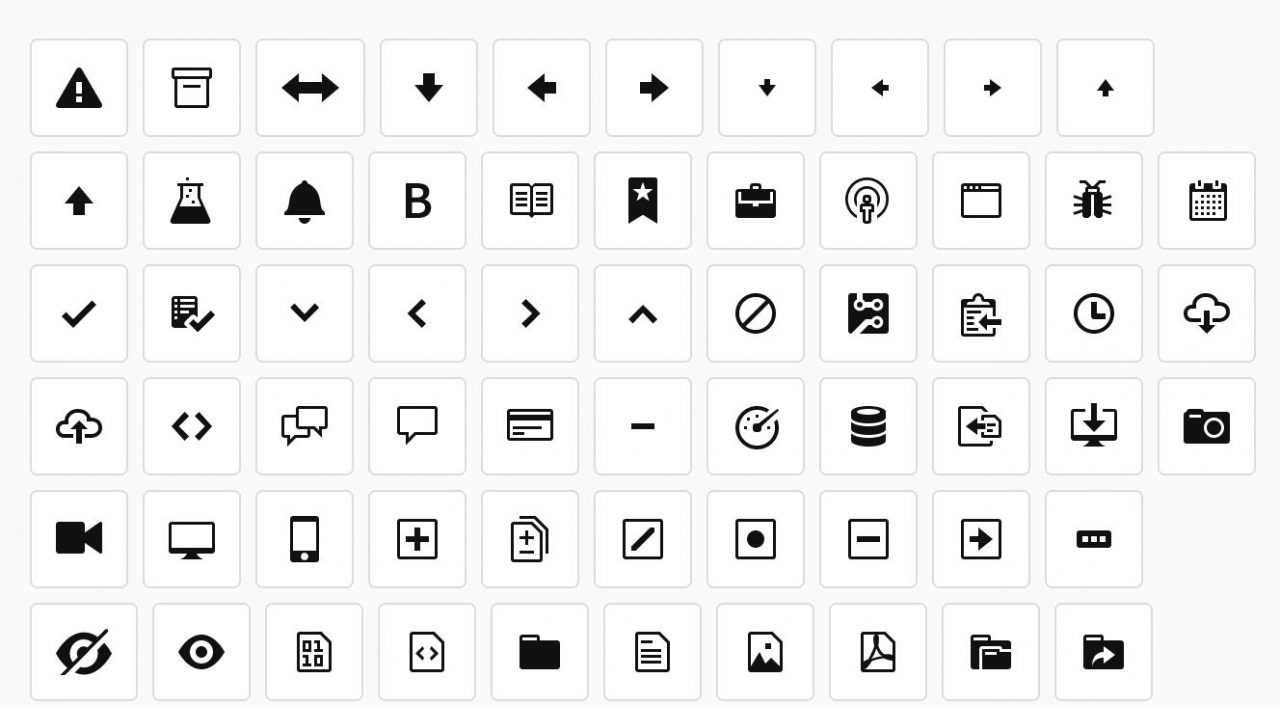 Rails helper or the Jekyll helper are used to include the Octicons into our project. In this icons sets there are lots of icons to choose from but Octicons have less icons in compare to other icons.
11. MFG Labs
This font icon are smooth in design and are used for projects as they can be easily embedded on a website or application using a web font and CSS. MFG labs icons are licensed under a Creative Commons Attribution 3.0 License. Icons are made with the vectors diagram so the icons are scalable.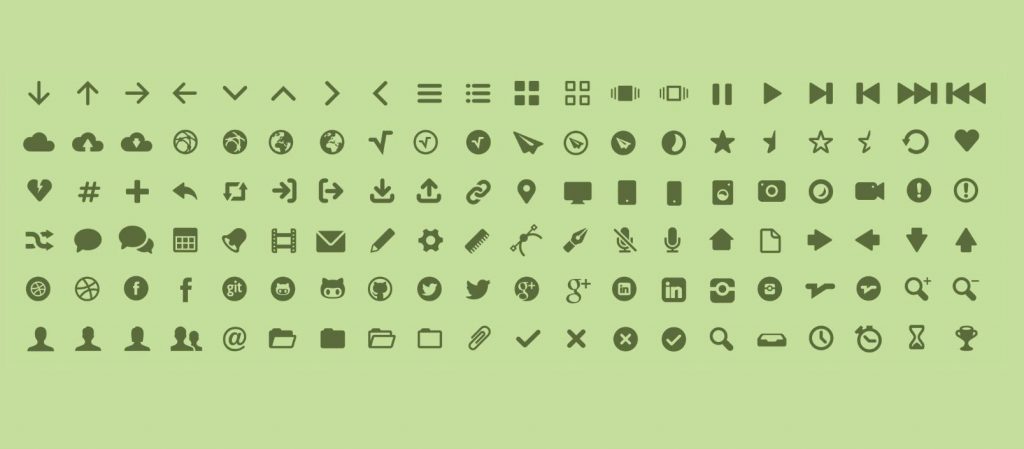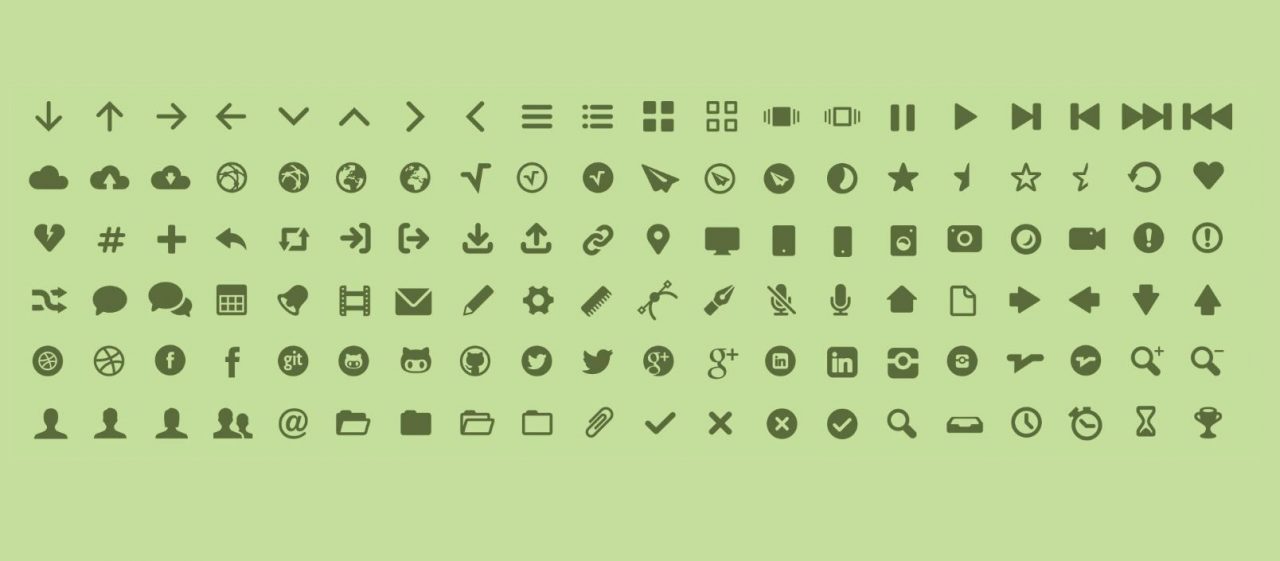 The team of MFG labs are dedicated for this icons to they update their icons on time and again. As every other icons this icons also have got lots of varieties.
12. Typicons
Typicons are the free icons based on the vector, which is used in web fonts to make better UI, whether it be on the web or in a native app.
You can download and use Typicons or you can download and use minified CSS on your project. You can use SVG too which makes font to be more smooth and sharp. The latest release of Typicons is version 2.0.9. This icon is license under CC BY-SA license.
13. Map Icons
Map Icons are the special icons use with Google Maps API and Google places API using SVG markers and icon labels. Maps Icons makes Google Maps Markers attractive with color, size and customizable icons.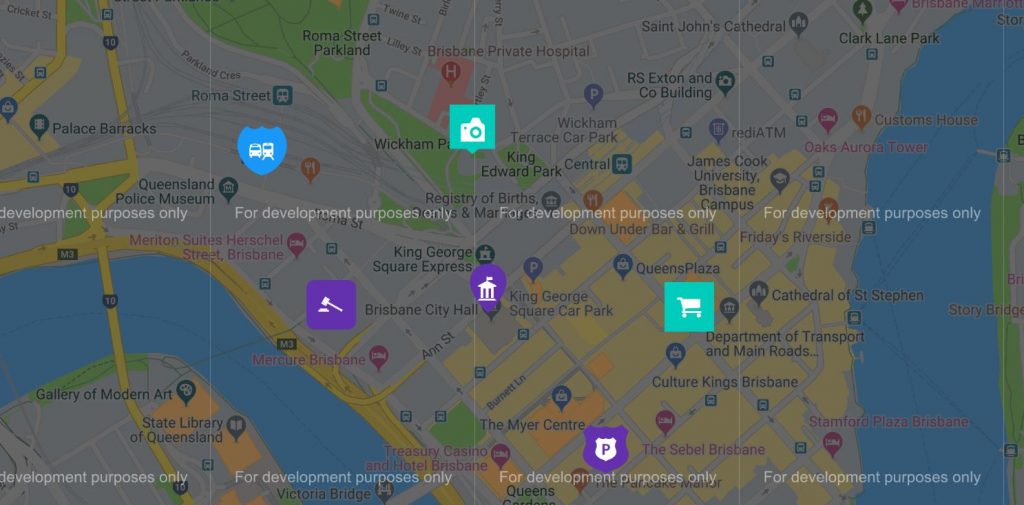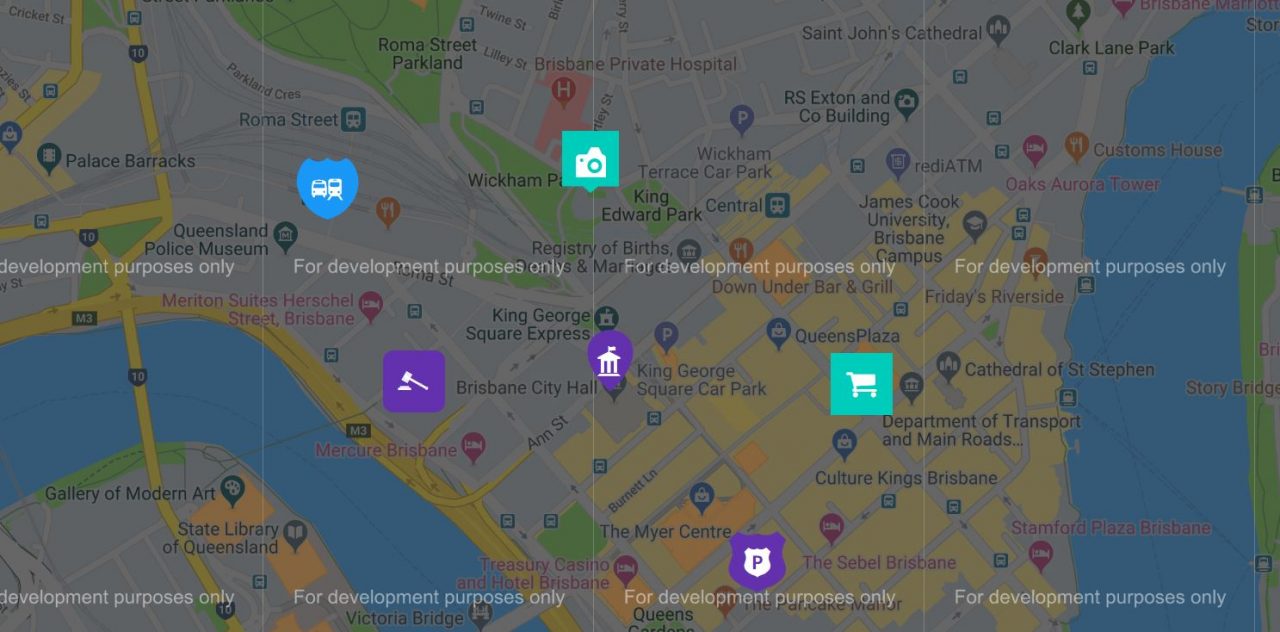 You can have control over the icon with CSS so you can apply your own style to the icons to make it suitable to the project. Icons are scalable so size will not affect its looks.
Map Icon have icons for accessibility using an accessible web format. Icons are easy to use though there are varieties. Its icons are complete package for maps mainly.
Conclusion
There are various source for font icons. Each one of these source have its own specialty. The icons from every source are customizable according to user requirement. The support from the team for the betterment of those font icons are going on to keep those icons updated.
As every font icons have its own feature, we need to choose those icon on the basis of our projects. We need to use these icons to make our UI much better with UX with it.