With over 1 billion active users daily, Facebook offers a profusion of features to improve user experience. It comes up with new features frequently, and each one is an absolute banger. But do you know about the activity log on the Facebook page?
Yeah, we're talking about the very feature that allows you to sneak into your past activities.
Whether you want to recover old posts or see your login activity, this feature shows it all.
Well, each attribute on this platform has its own purpose and space, but where can you find your activity log?
If you are clueless, you're in the perfect place. In this blog, we will guide you to explore it on the FB page in the simplest way. Also, check this for more Facebook Page Tips and Tutorials.
What is an Activity Log on a Facebook Page?
Activity log on the Facebook page is a feature that helps you visualize all of your past activities one by one and manage them.
With various other tools and features flooding this platform, each one has its own significance and serves different purposes. Likewise, the activity log also has its importance.
It acts as a window that keeps records of your past interactions and engagements.
After going into this section, you will get to see your entire activities, like comments, stories, pages, page likes and interests, etc.
What's more interesting is that you can also recover deleted posts on your page. But wait, that's not all!
You can review the posts you're tagged on, videos you've watched, groups you've searched for, and so on.
And yeah, this feature is not only accessible for FB pages; it's also available on personal accounts.
Can You See Activity Log on Facebook Page?
Yes, you can see the activity log on the Facebook page; it's just a few clicks away. This feature is accessible for all users to keep track of their activities.
However, no one other than you has access to observe your activity log. Still, some of your posts and content activity logs might be visible to the public in your timeline, friend's feed, etc.
Besides that, you cannot view the activity logs of other users.
When you try to access this feature, a criterion must be met. You must be the admin of that page.
How to Find Activity Log on Facebook Business Page
Exploring the activity log on the Facebook business page is a no-brainer. Anyone can find it with relative ease.
Here, we'll provide you with two methods. One for mobile phone (Android and iOS) users and another for PC users.
This will ensure that our guidance can be helpful no matter what device the user has.
Find On Desktop Web Browser
To find the activity log on your Computer (Windows or Mac), follow the below process step-by-step:
1. First of all, open Facebook on a web browser and log in to your Account.
2. Click on Account at the top right and switch to your Facebook business page.
3. Once again, click on Account beside notifications.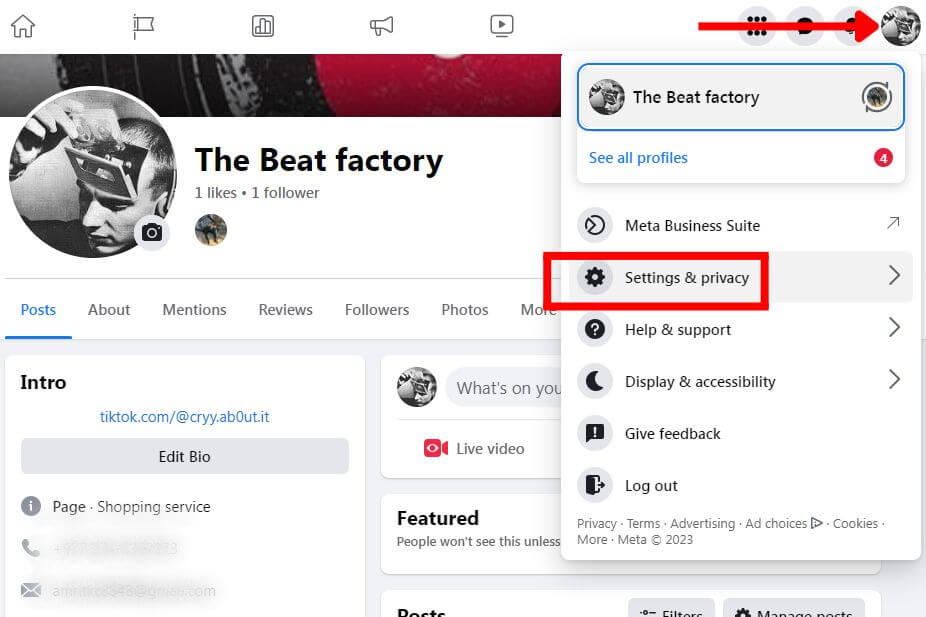 4. Then, click on Settings & Privacy, and you'll see the activity log below Privacy Centre.
Alternative Option
1. Go to your FB business page.
2. Click on the three-dots menu. This appears on the right side of the screen below the profile and cover photo.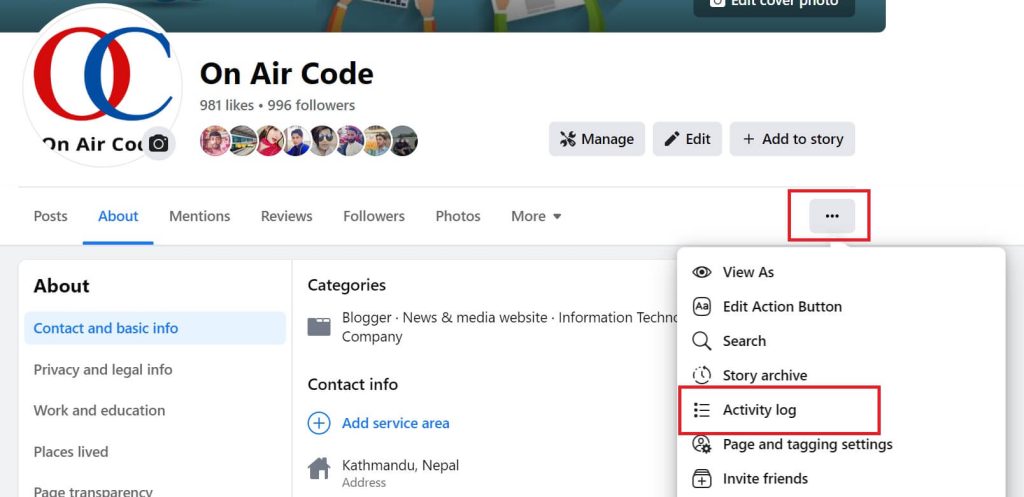 3. Now, click on Activity Log from the drop-down menu options.
Here, you will see various activities like posts, comments, search history, videos you have watched before, story history, and more.
From the left side, you can also find and filter archived posts and stories, deleted photos, videos, and content, and post and tag reviews.
On Mobile App
To find activity log on your Facebook business account through a smartphone(Android or iPhone), go through the below method step-by-step:
1. Open the Facebook application on your smartphone and ensure you are logged in.
2. Now tap on the three horizontal lines on the top right and switch to your Facebook business page.
3. Again, click on the three horizontal lines and swipe down a little.
4. Tap on Settings & Privacy, which will provide you with a drop-down menu of different features.
5. After that, click on Settings.
5. Tap on Page settings above Linked accounts from where you can link Pinterest, TikTok, and other social media on your page.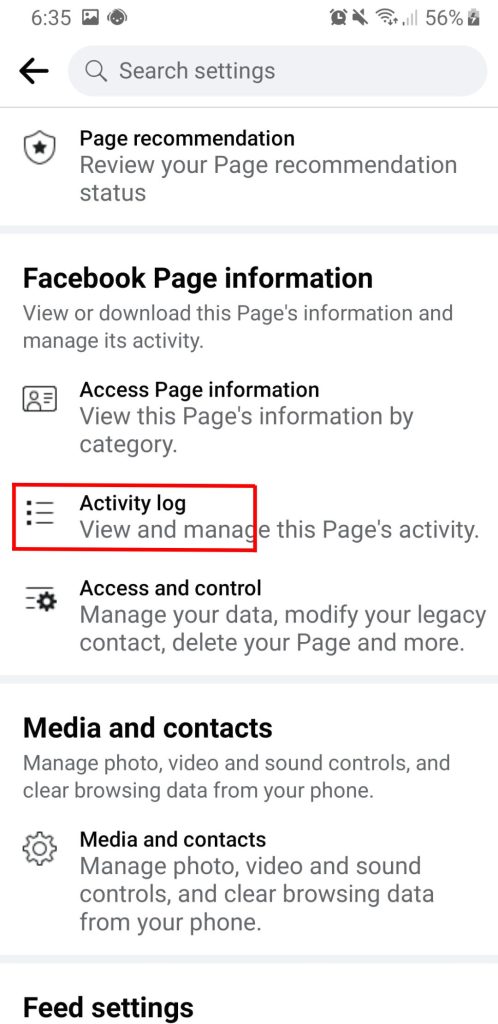 6. Scroll down a little, and you'll find the activity log under the Page information section.
Here, you will see all activities on your business account.
You can also find it from your business account> three-dots menu> Activity log.
Where is the Activity Log on the Facebook Business Page?
The location of the activity log on the Facebook business page varies depending on your device.
If you're using a mobile phone, you'll see it in the Facebook page information section under page settings.
However, if you're using a PC, you can view it in the Settings & Privacy section. It's a lot easier for you to view this feature on your computer compared to smartphones.
FAQs
Does the Facebook page activity log show deleted posts?
Yes, the Facebook Page activity log shows your deleted posts. However, if 30 days pass after the deletion of the post, it'll be permanently deleted from FB's server, and you cannot recover it.
Can I see someone else's activity log on Facebook?
No, you cannot see someone else's activity log on Facebook. You can only view other users' post activities and interactions on their timeline if they have set the visibility to the public.
Conclusion
With all that said, you can see your activity log on your Facebook page with relative ease. There's a different process to view it, depending upon the device you're using.
And yeah, you can only see other's activity logs if you're the admin.
This feature also assists you in retrieving your old content. Moreover, using this feature can be very advantageous to review your activities and manage them accordingly on your FB page.
On top of that, this attribute has been set in a very convenient place where anyone can easily find it.
If you have some spare time, also learn to change Facebook page quality.