Having Pinterest connected to your page can be cool. But you know what's cooler? Badges for your fellow followers. And you don't want to miss being part of this gratifying feature while your competitors are flexing it. So, what are you waiting for? Add badges on your Facebook page already!
Enabling this feature can manifest professionalism in page management while also letting your followers know the value of this feature.
This feature offers favorable changes for both authority and page members. And why wouldn't it?
The badge will appear next to the name of the followers, and it will define the role of that person, which automatically helps users contact the exact staff related to their query.
Adding this feature can be one of the best actions for the welfare of your business account as well as the followers. And if you have no clue how to do it, we're here for you.
In this blog, we will assist you in adding badges to your Facebook page without complexities.
What are Badges on the Facebook Page?
Facebook Bagdes means a title or symbolic tokens provided to a member of a business page; they show who you are and your achievements on a business account. It's just like a police officer's badge.
To put it simply, this feature acts as a digital award that manifests a member's bonding depending on the engagements and association with the page.
It also portrays an individual's impact, affiliation, and dedication as a member of that particular Facebook business profile.
Well, this dynamic feature plays a crucial role in improvising interactions on an FB page.
There are a handful of badges on this platform, each with its own significance.
Those badges are distributed depending upon a member's role and accomplishments, nothing else. And no one except the admin has the right and access to enable this feature.
Also Read: How To Add Editor On Facebook Page
Can you Add Badges on the Facebook Page?
Yes, you can add badges on the Facebook page. This feature is significant for the admin to highlight the importance of a member; it's like bestowing trust on an individual.
And doing so can help you to make your page more appealing and credible to the audience.
These Badges are the reward to your most engaged fans or followers. After enabling it, the Facebook algorithm finds out the most engaged followers by analyzing post likes, comments, shares, and frequently read content you have shared.
Currently, there are two types of badges available on business accounts: Top and Rising Fan.
Related: How To Post Reels On Facebook Business Page
How to Add Badges on Facebook Page
You can easily enable or disable fan badges on your Facebook business account using a computer or mobile app.
On Mobile App
Follow the step-by-step process to add fan badges on your Facebook page using your mobile app (iPhone or Android).
1. Open the Facebook app on your smartphone.
2. Switch the account to the business page you want to add.
3. Now tap on the three-line menu or profile picture from the top right corner.
4. Find and tap Performance Dashboard. You need to click See More if it is not visible on the screen.
5. From the tools section tab, Fan Engagement.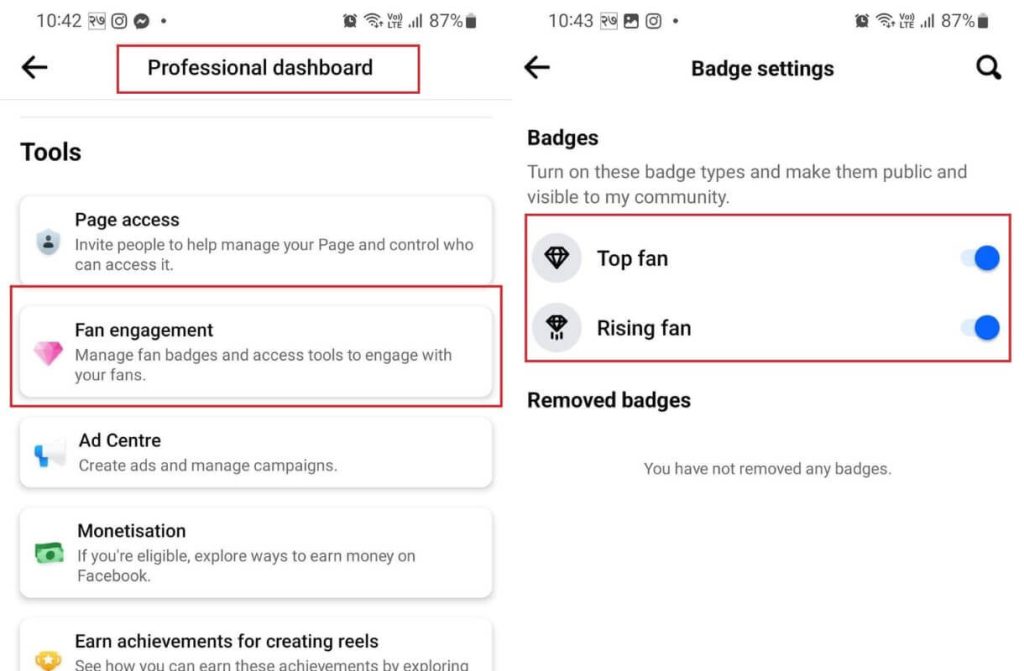 6. Now click on the toggle button to enable Top and Rising Fan.
On Desktop Web App
Following is the step-by-step guide to adding fan badges on your Facebook business page using your PC (Mac or Windows).
1. First, open Facebook.com on your computer using any browser and switch to your business page after login.
2. Click on Professional Dashboard from the left side of the screen.
3. Again, scroll down and click Fan Engagement from the left side.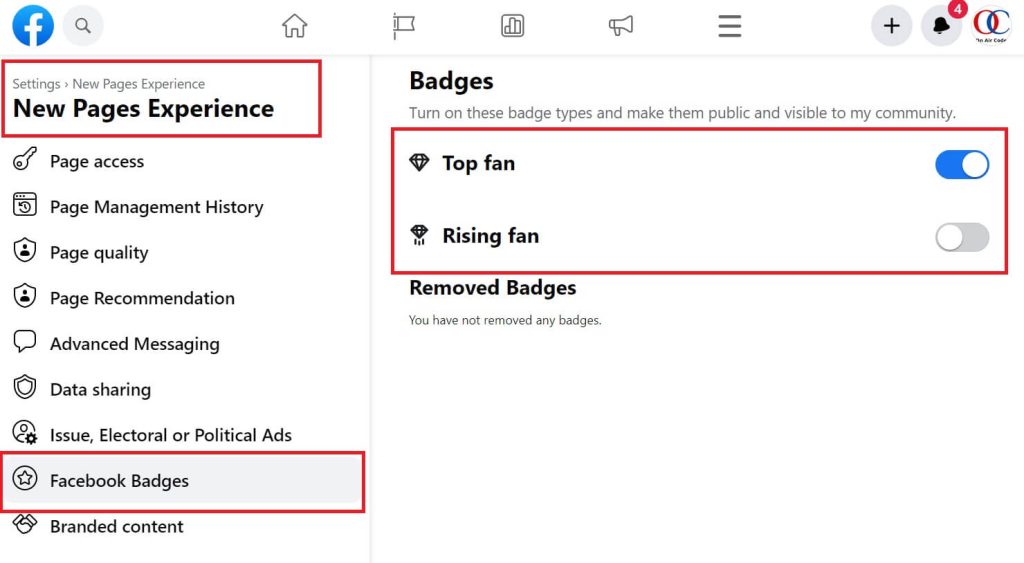 4. Now click on the Top Fan or Rising Fan toggle button. You can enable both badges also.
Alternatively, you can turn it on from the FB page Settings> New Page Experience> FB Badges.
ALso Read: How To Check Facebook Page Quality
How to Disable Fan Badges on Facebook Page
Because of various reasons, you might want to turn off fan badges, just like adding and disabling, which is also simple and easy.
You just need to go to your page's fan engagement section by following the above steps. You can use any of the devices, either a mobile or Laptop/PC, to disable fan badges from your business account.
After reaching the Fan Engagement section, just turn off the toggle button from the left side of the Top or Rising Fans badges.
How to Give a Top Fan Badge on Facebook Page
You can't give top fan badges yourself to your friends or followers. It is only determined and given by the FB algorithm after analysis of user engagement on your content.
So you can't give this to a specific user by yourself. Facebook analyses many factors before enabling top fan badges to any followers.
FAQs
Why someone can't get a top fan badge on Facebook?
Some users can't get a top fan badge because it is only provided to the most engaging and active followers on your page.
What types of badges are available for Facebook Pages?
Currently, there are Top Fan and Rising Fan badges available for the Facebook business account.
Conclusion
At last, it's easy and simple steps to add badges on a Facebook page. To enable or disable this feature, you must be an admin of the business account.
Once you turn on from page settings, the most active and engaged followers will automatically receive these badges. You can read this article to report and recover your hacked business accounts.