Learn the negotiating strategies from your mom because now, you must bargain on Facebook Marketplace while purchasing an item.
Whether it's a physical store or an online store, bargaining activities are done in each and every marketplace. While negotiating can help customers spare some money, it also helps sellers to sell their products easily.
Thus, Facebook also has its own digital store where there is a built-in feature helping customers cut some prices on items with the seller's agreement.
So, utilize the offer of this feature without giving it a second thought as it offers a good advantage. But if you don't know how, we've got your back.
In this blog, we'll teach you how to bargain on Facebook Marketplace with two different methods in the simplest steps.
Also, learn to find your listing on FB Marketplace while at it.
Can you Bargain on Facebook Marketplace?
Yes, you can bargain on Facebook Marketplace. Doing so can save you a decent amount of money. In fact, if your budget is tight, it's the best thing to do.
You can negotiate with the seller in two different ways. You can either use Facebook's built-in feature(Send Offer) or bargain with the seller in messages.
However, the best way to bargain is by messaging, as you can inquire more about the product and maximize the discount by convincing the seller.
While the platform itself has offered a specific feature just for negotiation, you should try cutting some prices on items while buying from FB Marketplace.
If you've better convincing skills, you can surely make a weighty benefit by bargaining on Facebook Marketplace.
You can also bargain while buying from international sellers, but you must change the country to find the item.
However, remember that you must negotiate with the seller in a polite manner and offer a reasonable price for the product.
How to Bargain on Facebook Marketplace?
Negotiating can earn you several benefits, and there's no doubt about it. However, it is somewhat complex compared to adding tags and changing prices on FB Marketplace.
Here, we'll guide you on how to negotiate while buying an item in the platform's marketplace so that you can get a discount and spare some money.
Also, this guide follows two methods from which you can choose any you prefer.
So, let's go through every available process by only using a mobile phone(Android or iOS) as this feature is not accessible on a Computer.
Option 1: Send Offer Price
In this process, we use a built-in feature provided by the platform for customers to negotiate while buying a product. For this method, you can only use your mobile app because this feature is not available on a PC.
To bargain on Facebook Marketplace using a smartphone(Android or iPhone), go along with the process below:
1. First of all, open the Facebook application on your smartphone and log into your account.
2. Tap on the hamburger icon at the top right.
3. Click on the Marketplace under All Shortcuts. But if you want to go into the marketplace in the easiest way, just click on the house-like icon located on the left side of notifications. However, it might not be available every time.
4. With that done, click on the search icon above Categories and type the name of the item in the search bar.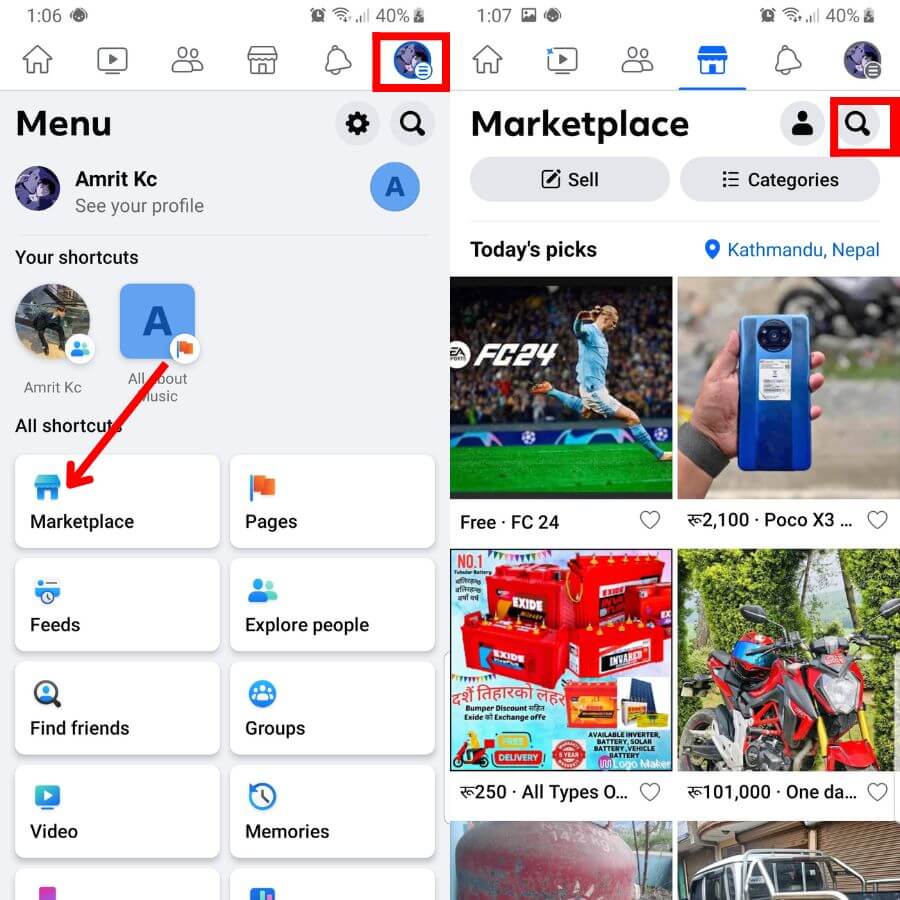 5. You'll get a list of the same items with different prices and conditions. Select an item that you prefer.
6. Then, you see three different options: Alert, Share, and Send Offer. Ignoring every other option, click on Send Offer.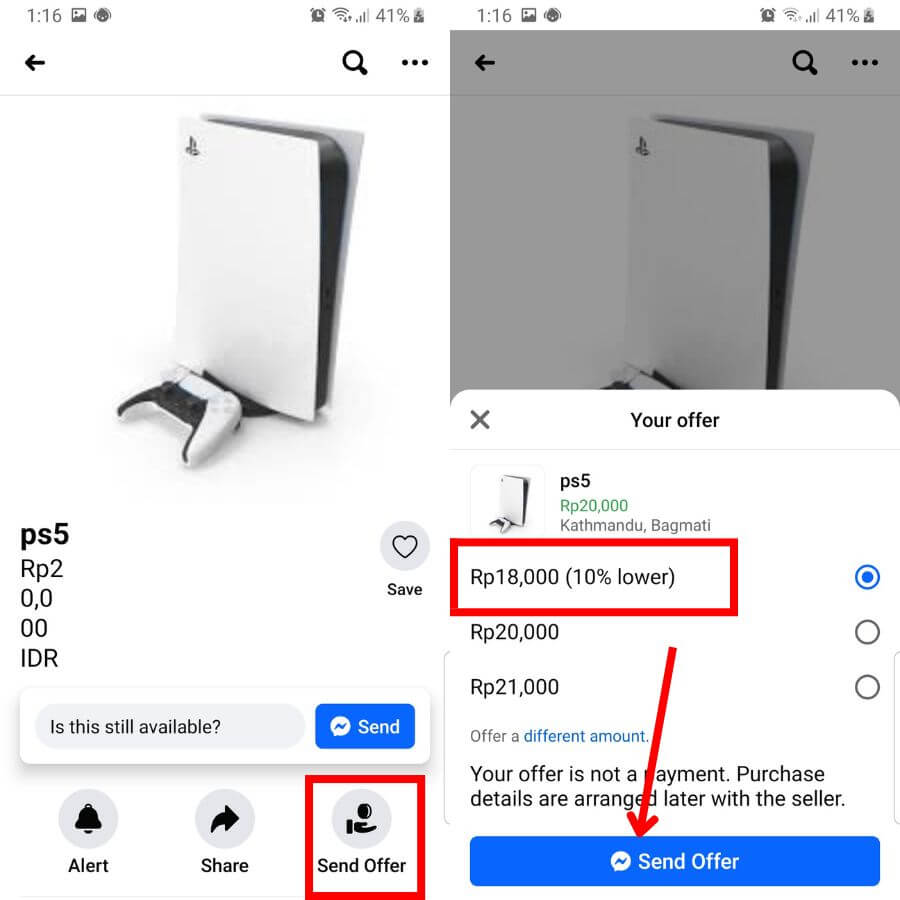 7. Again, you'll get three different price choices. From there, select the price(10% lower) as we are here to make a negotiation.
But if the given price is reasonable for you, you can choose the given cost. Or you can give more than the displayed price if you're totally satisfied with the product and have more money. It all depends upon your budget and satisfaction.
8. Lastly, click on Send Offer. With that done, your offer will be sent as a message to the seller, after which you can do more negotiation iterations on the chatbox.
Option 2: Discuss on Message
While you could directly send an offer with a price on the first option, this process is slightly different. In this process, you need to directly send a message to the seller.
For that, you need to go to the Marketplace and search for the item. Then, click on that item, write an inquiry message on the available text box, and tap on Send.
Your message will be directed to the seller's chatbox. After that, discuss with the seller and offer a reasonable price that you're willing to pay for the product.
Try your best to convince the seller with your budget and get the deal done in no time.
What's the Best Way to Negotiate With a Seller?
The best way to negotiate with a seller is by discussing on message. Indeed, the Send offer feature is crucial for bargaining. However, every seller might not accept your offer, especially if your offered price is too low.
And even though the seller accepts your offer, you must have a short conversation to finalize the deal. So, why choose the long way when you have a shortcut? Have a good conversation and sell your words to get a discount.
Negotiating on message helps you maximize the bargaining price to the seller while also providing reasoning for it. Moreover, directly sending a message to negotiate portrays your seriousness about the deal.
FAQs – Bargain On Facebook Marketplace
Can sellers negotiate prices on Facebook Marketplace?
Yes, sellers can negotiate prices on Facebook Marketplace by having a conversation with the buyer. However, unlike buyers, the sellers don't have access to FB's negotiating feature, Send Offer.
What should I do if the seller doesn't accept my first offer?
If the seller doesn't accept your first offer, you must message and try your best to convince the salesperson by slightly changing the price from your first offer.
Wrapping Up
Coming to the conclusion, you can bargain on Facebook Marketplace, and you can do it in two ways. Negotiating for an item can help you buy an item with a satisfying price.
The best way to negotiate on the marketplace is by sending an offer to the seller. Even though the send offer built-in feature is accessible only to buyers, sellers can also negotiate with the customer through chats.
If you're interested, also know what SKU means on FB Marketplace.