Besides being just a social media platform, Facebook is a free way of business as it has a digital store for users to sell and buy items. Over 800 million people visit the platform's Marketplace every month, and many have already earned enriching profits from here. You can even earn a weighty profit here; you just need to select a relevant category for your selling item on Facebook Marketplace.
Yeah, you heard it right! When it comes to selling an item here, precise categorization sells the most. And there's no questioning how because if you categorize your product appropriately, it will appear on the first page after a customer searches for the name of your product inside the same category.
So, make sure you've chosen a proper category for your item. But if you've stumbled just because you don't know how to select a category, we're here for you.
In this blog, we'll guide you on how to select a category on the Facebook Marketplace in the simplest steps.
What are Facebook Marketplace Categories?
Facebook Marketplace Categories are the classification of items in different groups. The function of category in this platform is to help sellers sell to the right audience and customers to buy the right product.
Every item available in the FB Marketplace is specified in categories and sub-categories.
Without the categorization of items, the Facebook Marketplace is like a vast sea with millions of species of fish; it'll be hard to find the exact one you're looking for.
Thus, Facebook has added this feature to the Marketplace, which has made it easier for customers to buy the products without wasting time searching for a particular product.
Can you Select a Category on the Facebook Marketplace Listing?
Yes, you can select a category on the Facebook Marketplace listing. There are lots of categories as well as sub-categories lists from which you can select any you prefer. Apart from that, you can also change to other categories on Facebook Marketplace after posting.
Not only while listing items, but you can also choose a category while buying a product. This will help you to get accurate results for the items you're searching.
How you utilize categorization for your selling item determines whether you'll get success or failure.
Category selection can pay you a decent profit if you have a proper selection according to your item. But if you've chosen the wrong category for an item, things might get rough for you.
Besides choosing a specific category for an item, you can also change its price and category on Facebook Marketplace.
How to Select a Category on Facebook Marketplace?
Well, choosing a category on Facebook Marketplace is a no-brainer and can potentially leverage your online business in no time.
But you must know how to choose the right category for your item. Or else it can be somewhat troublesome.
So here, we'll guide you on the Facebook Marketplace category selection using both mobile phone(Android or iOS) and Laptop(Windows or Mac) so that you won't have any problems no matter what device you have.
On Mobile App
To select a category on Facebook Marketplace using a smartphone, follow the below process step-by-step:
1. Open the Facebook app on your smartphone(Android or iPhone) and make sure that you're logged in.
2. Press on the three horizontal lines at the top right where you can find the activity log and recover your deleted posts from the FB page.
3. Click on Marketplace under All shortcuts, where you can also create an event and add a website to a Facebook page.
You can also go to the Marketplace by clicking the icon located on the left side of the notification icon. However, it might not be available every time.
4. After that, tap on Sell on the left side of Categories.
5. There, you'll get three options: Items, Vehicles, and Properties for sale or rent. If you want to buy a property or vehicle, directly choose the category from there.
But if your selling item is not relevant to the vehicle or any property, simply click on Items.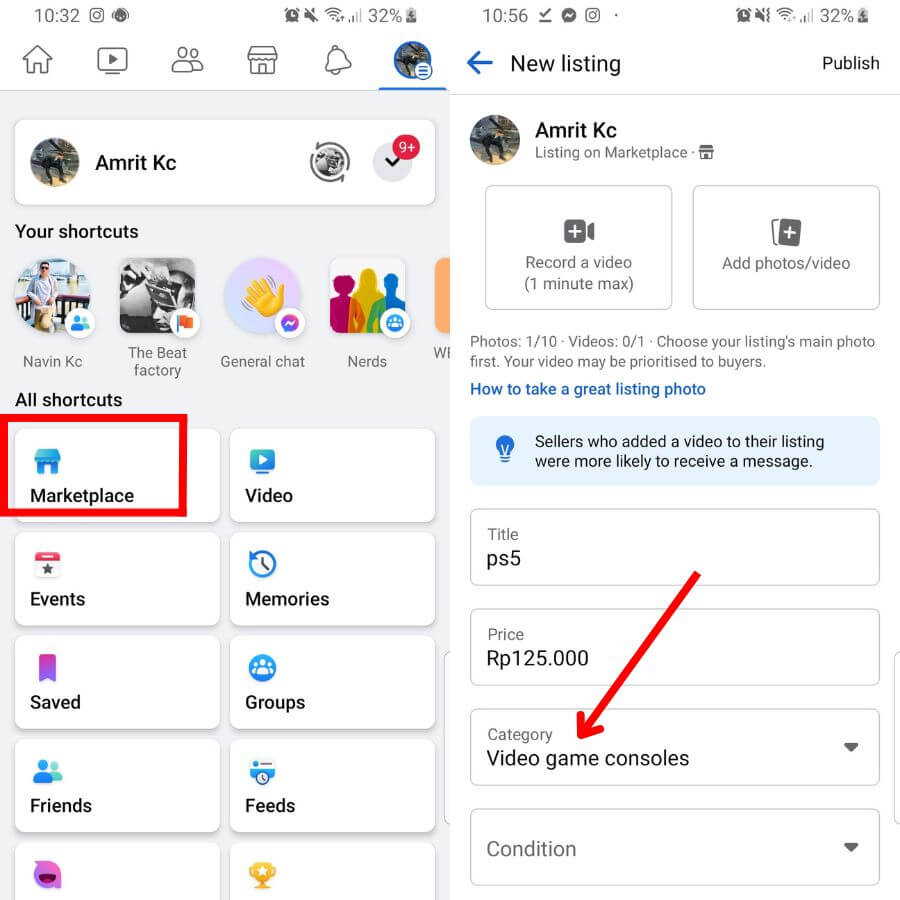 5. With that done, press on Category after providing other required information like picture, title, and price.
6. After that, you'll be provided with a wide list of different categories and subcategories. Choose a category that perfectly matches your selling item, and your work is done.
On Desktop Web App
To add a category on Facebook Marketplace post using a computer, go along with the below guidance step-by-step:
1. Open a web browser on your PC and log in to your Facebook account.
2. Click on the Marketplace below, Friends, located on the left side of your homepage. You can also go to Marketplace by clicking on the icon situated at the right side of the Video.
But as we stated earlier, it might not work every time; you can go along with the first process.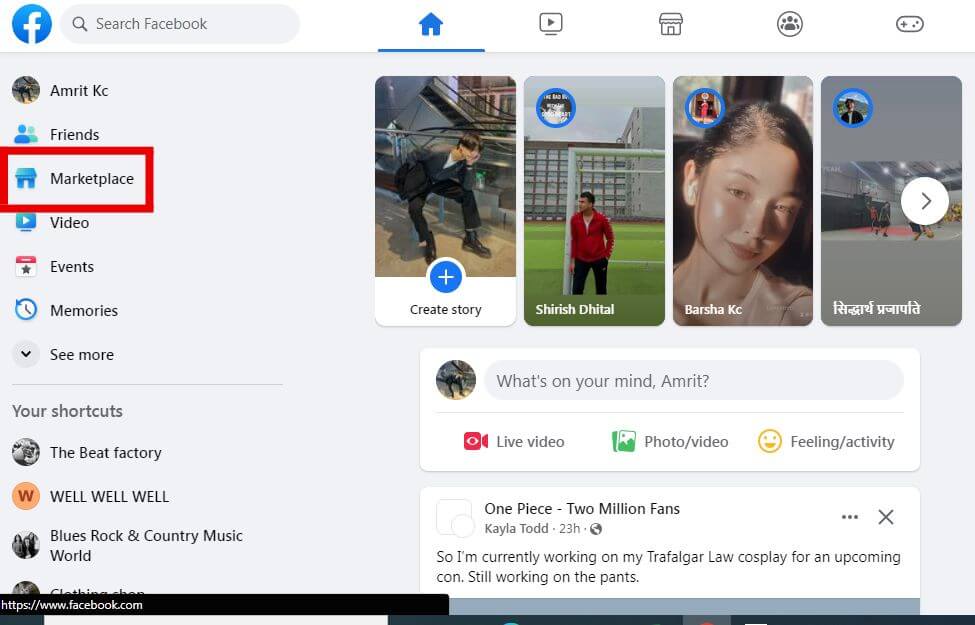 3. Tap on + Create new listing below selling.
4. After that, choose the given options accordingly if you're selling item is a vehicle or a property. If not, select the Items for sale.
5. Now that you've done it, press on Category below Price after you've completed providing other required information.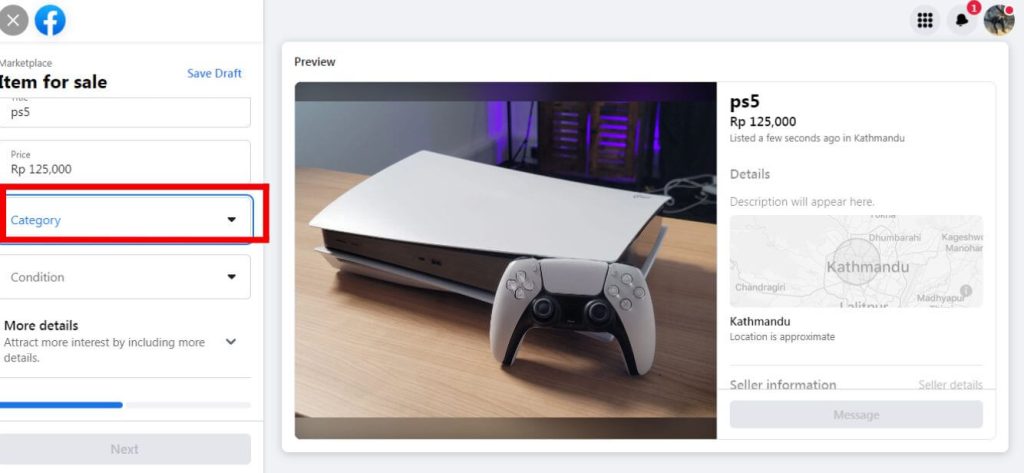 6. From the drop-down list, pick any category or sub-category relevant to your selling item, and it's as simple as that.
Remember that it is necessary to select a category if you're willing to sell a product at Facebook Marketplace. Or else you can't sell it.
Doing so will make it easier for customers to search for your products on Marketplace.
Most Popular Categories on Facebook Marketplace
Thousands of items are available for buying and selling in Facebook Marketplace. And it is very crucial for you to select the most popular item to skyrocket your productivity through this digital store.
It's because where there's a market, obviously, there are items that are popular and unpopular.
While it's more likely that people prefer popular stuff over unpopular ones, here are the most popular categories that can easily help you stand out on Facebook Marketplace:
Sports and outdoors
Home and Garden
Clothing and accessories
Electronics
Video games
Pet supplies
Health and beauty
Vehicles
Available Categories on Facebook Marketplace
From vehicles to furniture, there is a wide range of items available on Facebook Marketplace. And while there are tons of products, FB offers a proper categorization for each and every available product.
The categorization of items plays a very crucial role in this marketplace. While it helps sellers to sell products to the right customers, it also helps buyers to find their preferred product with relative ease.
But do you know what are the available categories in this digital store? If not, here they are:
Home and Garden
Entertainment
Clothing and Accessories
Family
Electronics
Hobbies
Classifieds
Vehicles
Remember, these are not all the available categories; it's just that the above listed are bulls-eye.
What Category is Best for Food Items in the Facebook Marketplace?
Well, there is no specific category for food items in the FB Marketplace, as the platform doesn't suggest selling food in this Marketplace.
Still, you can sell the food items by selecting a relevant one from the available categories, such as household.
What is the Category for Camera and TV in FB Marketplace?
Both televisions and Cameras are known as electronic devices. Thus, the electronics category in Facebook Marketplace suits the best of these devices.
However, you can also choose the entertainment category if you want to sell television.
Which Category is for Bicycle, Motorcycles, and Cars?
Each and every item has its fair share of categorization in Facebook Marketplace, and so do these three items.
As all of these items offer transportation facilities, they all fall under the vehicles category.
Best Category for Garage Sell on Facebook
The best category for garage sales on Facebook Marketplace is classifieds. While choosing this category, you will automatically get the "Garage sell" subcategory, which you can select while listing used items such as furniture, electronics, and so on.
FAQs
Why are Facebook marketplace categories not working?
Facebook Marketplace categories might not work because of cache and cookie issues. To get rid of this problem, you can clear the cache. Besides that, it might also not work due to technical problems, so keep an eye on updates.
Can I add missing categories myself on the FB market?
No. You cannot add missing categories yourself on the FB market. The platform doesn't allow users to add any other category besides the ones that are already available.
Can I change the category of my listing after posted?
Yes, you can change the category of your listing after posted. For that, you need to click on the three dots available on the listed product > Edit listing > Category > choose another category > Update.
Can I choose multiple categories for a single listing?
No, you cannot choose multiple categories for a single listing. You must have multiple listings in order to choose multiple categories.
Conclusion
Wrapping up, categories on Facebook Marketplace are the classification of items in a specific group or list.
You can choose a category and sub-categories on Facebook Marketplace, and it's a piece of cake. You cannot only choose, but you can also change the category of your listing items.
Given tons of categories on FB Marketplace, they are also the most popular ones that have best-selling products.
If you have time, also learn to go live on the Facebook business page.