As Facebook stores different data and information from its users, you can check your Facebook page creation date no matter how old it is.
With billions of users daily, there are thousands of pages on Facebook that serve different purposes. While most of them are legit, few are fraudsters.
But do you know that you can detect those scammers by checking their creation date? Well, don't get confused with the creation date and Facebook page creation date here; it's the same thing.
You might be wondering how, and that's why we're here for you. In this blog, we will help you check it while also letting you know if you can change it.
Can You Check Facebook Page Creation Date?
Yes, you can check your Facebook page creation date. Not only you but any user on this platform can view this information.
It doesn't matter if you're using a mobile phone or a Laptop; it appears on the profile panel's About section, where you can see all your details.
While you're surfing through different accounts from time to time, you gather data through its profile. From service area location to contact numbers and email, FB provides a glut of information.
And it's not only for you but for all other users. Thus, every user can also go through your profile and check everything, including the start date.
There's no privacy in this case; everything's public whether you want to show it or not.
This leads to publicity, which might make you feel uneasy. However, you should look at the bigger picture here and accept the fact that it's actually very beneficial.
If you're confused about how just wait until we answer why to view the creation date on the Facebook page.
How to Check Facebook Page Creation Date
Time Flies, and if you need solid proof of it, go see your page created date. It's already been years since you created it, and you haven't noticed it yet.
Well, you might not have remembered this, but Facebook surely does. Along with many other information, it also keeps the data about the creation date.
That brings back some good old memories of when you decided to start something new with Facebook's feature.
So, if you want to look at when you started creating your Facebook page, this is the perfect place.
On Mobile App
If you want to check your Facebook page creation date through your Android or iOS (iPhone and iPad) smartphone, follow this process step-by-step:
1. Open FB on your mobile phone.
2. Tap on the three horizontal lines and switch your account to a business page.
3. Go to your profile panel and tap on the About section. You can also add an email, address, and other information here.
4. Swipe down a little and click on the Page Transparency section. Here, you'll see the year, month, and day it was created.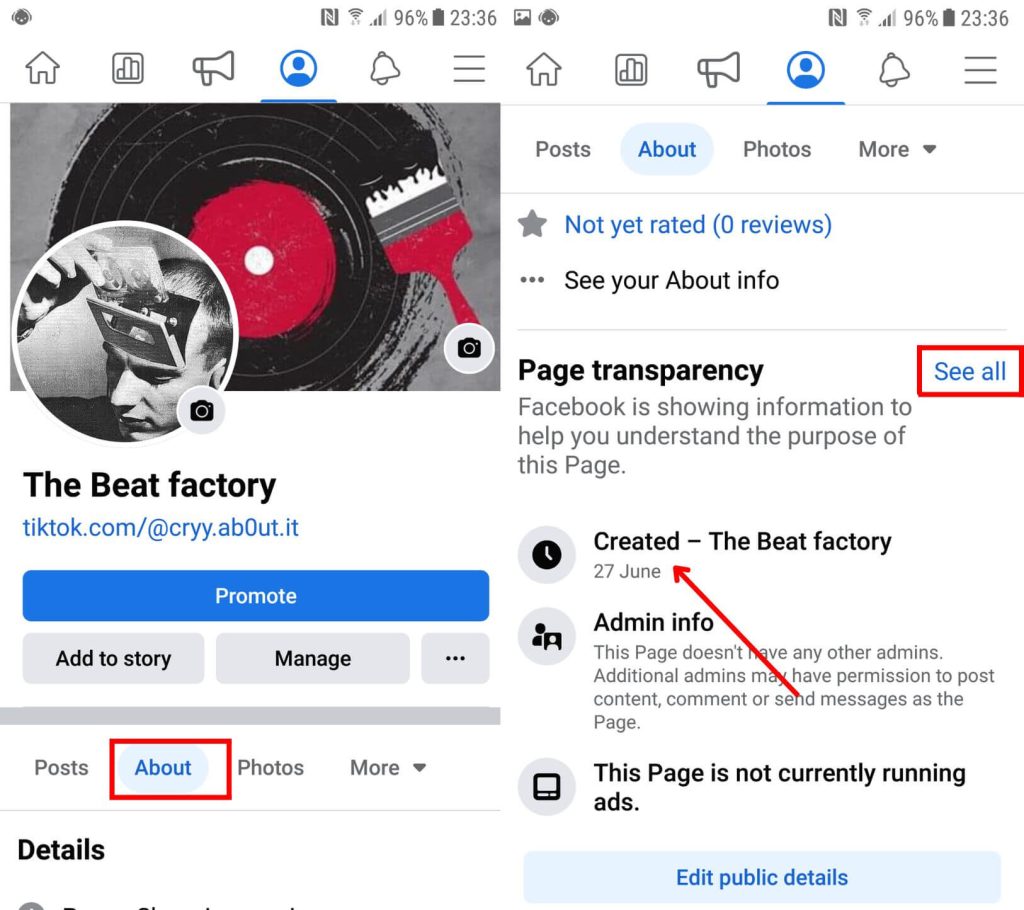 5. So, tap on See All, and with that done, you can view the exact start date, including the formation year.
On PC
To check the Facebook page creation date on the computer, follow this step-by-step guide:
1. Open a web browser on your desktop and log in to Facebook.
2. Click on Account at the top right and switch your account to the business profile.
3. Visit your profile panel and click on About. In this section, you can also add addresses and even change language.
4. Now, click on Page transparency, and it will show in which day, month, and year you joined.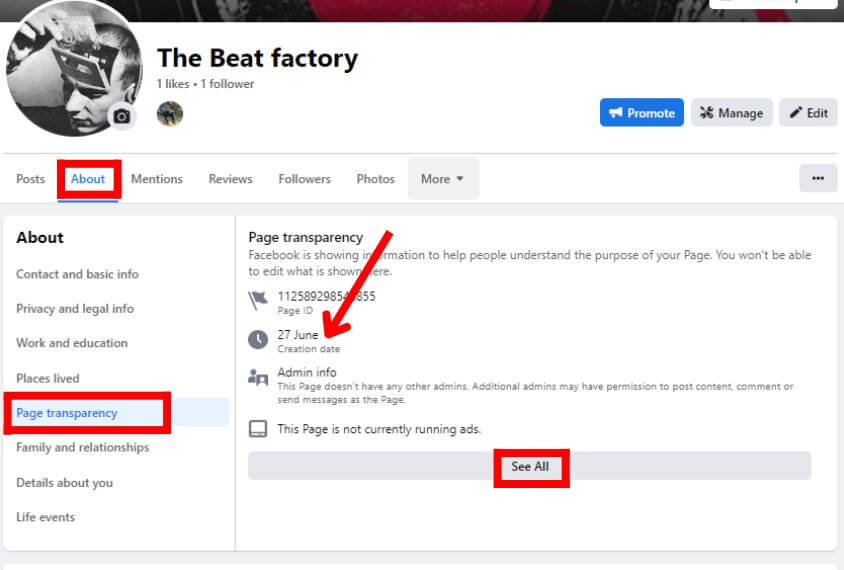 5. So click on See All, and it will give you the full date.
Also read: How To Create an Album on Facebook Business Page
Why View Creation Date On Facebook Business Page?
If you think the creation date is not that important, you are misunderstood. Actually, this information is a lifesaver.
In this digital era, scamming and fraud have been a popular business. Whether it's business or charity pages, scammers are swarming up on like bugs on Facebook.
And this is where the creation date manifests its true significance. You might be wondering how; don't we also have the answer?
This information can help you to verify the authentication of a business page. And you know, how crucial aspect is that when it comes to confirming its validity.
It helps you know when it was created, letting you know if it's legit or not.
Fraud is mostly new because they get banned for scamming people and continuously creating new accounts to run the business.
However, the authentic ones are old as they don't get any bans or restrictions; there's a consistent continuity in their work.
And this very reason sets them apart and verifies which one is genuine. Who would have thought that something like the first date of a page could be so important?
So, we hope you're aware of why you need to view the Facebook business page created.
Can You Change the Creation Date Of a Facebook Page?
No, you cannot change the creation date of a Facebook page. This application has a plethora of features for users, some of which can be changed, but some cannot.
But when it comes to a Facebook page account, you cannot create a new date and change it. However, you can change the service area, website link, and other information.
As a matter of fact, this app itself has stated that you cannot change any information being shown in the Page transparency section.
Indeed, Facebook has posted a guide on changing the creation date, which means it was accessible before but not now.
With the frequently upcoming update, that feature has already been removed.
Who Can Find Facebook Page Creation Date?
Every user can find the page creation date on Facebook. It doesn't matter if you're a member of it or not; you can view this information. In fact, it's as easy as changing a profile picture.
Likewise, you can find other pages' creation dates; other users can also check yours'.
Furthermore, like you can see who viewed your reels, you cannot see who viewed your creation date.
As we have stated above, how important this information is, make good use of it while it's still available.
FAQs
Can I See When My Facebook Page Was Created?
Yes, you can see when your Facebook page was created. You can go to the About section of your profile panel, and it will show you all the information, including the exact creation date.
Can I Change my Facebook Page Name After Creation?
Yes, you can change the Facebook page name after creation. However, it is only possible if 60 days have already passed since the last time you changed the name.
How Old Do You Have a Facebook Business Page?
To determine how old your Facebook business page is, you need to first find your creation date and subtract it from the current date. For example, If you have a page created in August 2018, it has aged five years in 2023.
Wrapping Up
Coming to the end, you can check your Facebook page creation date with relative ease. It appears on the profile screen of your business account.
However, even though you can view it, you can't change it. And yeah, this information is accessible to every user on this platform.
So, we hope our guide will be helpful for you to check the formation date of your as well as others' FB page.
If you have some leisure time, also learn to post on someone's timeline.