If you use Facebook frequently, you may have seen someone selling items online. So, you may also want to create a Facebook Marketplace account and quickly earn profit without any extra costs.
Well, you don't actually need to create a separate account to sell something on Facebook.
If you have a personal FB account, then you can easily do so without any issues. However, this may not be a good idea for a long-term plan.
Making an extra professional account may be suitable for a certified seller earning entirely through the online business.
So, this article will properly explain how to create a Facebook Marketplace account and a few good suggestions for efficiently operating it. Meanwhile, let's also learn to bargain on Facebook Marketplace if you are a buyer.
Can you Create a Facebook Marketplace Account?
Yes, you can set up a Marketplace account just by creating a personal account on Facebook.
In fact, you don't need to create a separate Facebook Marketplace account to use it. Simply open the personal account and tap the "Marketplace" option under the shortcut menu to use it.
As opposed to other e-commerce platforms, FB Marketplace doesn't require any complicated process to sell goods. There are also no extra costs involved unless you boost your post.
However, because of this, the risk factors are also higher for buyers and sellers.
Anyway, depending on your situation, you can decide how to use this platform yourself.
If you only sell goods for a limited time or want to get rid of some second-hand stuff, using a regular account may not be a big deal.
But it is better to create another account entirely to be genuinely involved in online business to earn a profit.
Also, make a good marketplace profile for a better impression. Furthermore, change location on Facebook Marketplace to do extended research on what is trending.
Overall, you can just tap the Marketplace shortcut on your personal FB account to start using this platform.
How to Create a Facebook Marketplace Account?
As you know, you just need a new Facebook account to create a Marketplace account.
Since you can do this using a Smartphone or a PC, let's learn both processes below for your convenience.
On Mobile App
Follow the step-by-step below on your Android or iOS (iPhone or iPad) device to create a Facebook Marketplace account.
1. First, create a Facebook account with a phone number or email address related to your business.
If you already have one, there is no need to do this step.
2. Next, open the Facebook or Lite app on your Mobile Phone and sign into your account with the username and password.
3. After that, tap the hotdog menu from the top right corner (Android) or lower right corner (iOS) of your FB homepage.
4. Then, select the "Marketplace" option or icon below the "All Shortcuts" section.
Tap the "See more" button if you cannot find it.
5. Now, you are already inside the Marketplace page as a buyer.
You can browse through the items, find sale items near you, and place your desired order.
Also, change the country to see items listed in different locations if you want.
6. Press the "Sell" button from the top left side to make a listing on this market.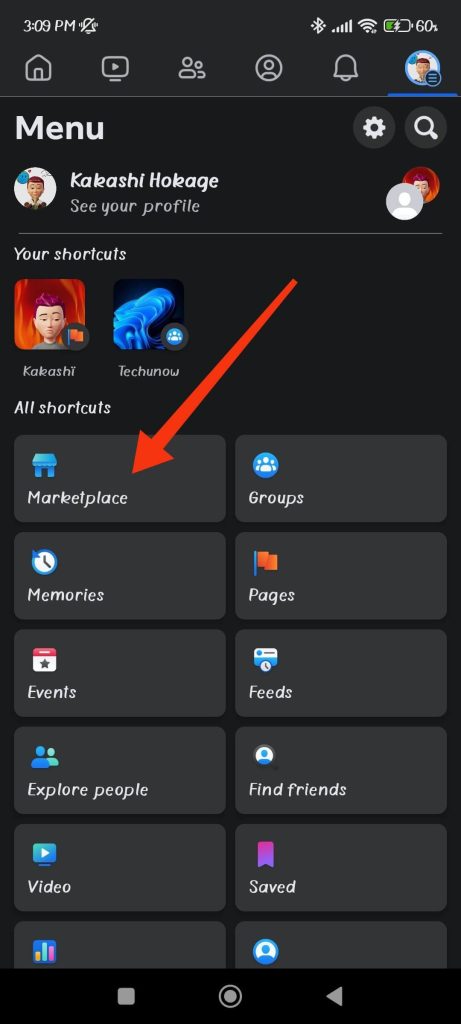 However, remember your listing will show the buyer your personal profile. Hence, make a separate account if you want to do this for a long time.
Now, choose from items, vehicles, or property and fill in the details of your product.
You can also add photos to the listing and use the SKU number if necessary, along with many more features. After preparing, just press the "Publish" button from the top.
This is how you can buy and sell things on Facebook Marketplace. There is no need to create a separate account to do so.
However, press the "user" icon from the upper right corner and use features like "location," "listings," insights," etc., to properly operate your account.
On Desktop Web App
Follow the instructions below on your computer or laptop to create a Facebook Marketplace account.
1. First, sign into the Facebook web on a desktop browser with your correct credentials.
2. Next, click the "Marketplace" option from the left panel on your homepage.
3. After that, browse the Facebook Marketplace store on your right panel and order anything you like.
You can choose a category, change location, or sort the sale items from the left panel.
4. Also, press the "Create a new listing" button to start selling items.
Remember, you only need to have a personal FB account to start selling on Marketplace.
Hence, all you need to do now is to fill up the form, add images, descriptions, etc., and post your listing. You can also quickly boost your post with little money.
Likewise, you can also find your listings on Marketplace and edit them if necessary. Furthermore, correctly mark an item as "Sold," "Available," or "Pending," as per the situation.
If you are from an eligible location, you can also add videos to your listing to promote goods better.
Overall, make a good Facebook Marketplace profile and use a separate account to operate a business properly.
Can you Create a Facebook Account Just for Marketplace?
Yes, you can always make a new Facebook account just for using Marketplace. In fact, you should create a professional account for your business away from your personal life.
Remember, you cannot operate the Marketplace with a page. Hence, you must have an FB Profile. Moreover, you cannot use an additional profile created from an already-used email or number.
Hence, use a new number or email address to create the FB account and set it to operate your Marketplace business.
Note: Remember that sometimes, it may take a little time to see the Marketplace feature on a new account due to FB's privacy policy.
What are the Requirements for Facebook Marketplace?
Though you can use Facebook Marketplace directly with a profile, you must still fulfil some requirements. Here are some important ones that you should remember.
You must be at least 18 years old to use FB Marketplace.
Your location must be eligible for this feature. Not all places have this platform available.
Your FB account must be old enough. A new account may not show this feature.
You must comply with community guidelines when buying or selling products. Otherwise, you may get banned permanently.
Besides these, make your profile informative with reasonable details to capture the buyer's trust and attention.
How can you Set Up a Facebook Marketplace Profile?
To set up a Facebook Marketplace Profile, all you need to do is open your FB account or create a new one if you don't have one and press the "Marketplace" shortcut.
After that, you can buy or sell goods quickly using the features available without other steps. Just be careful doing business and don't violate the community guidelines to avoid issues.
Of course, edit your account to have a good Marketplace profile, change the location accordingly, and modify the listing to use this platform correctly.
Can you Create a Group on Facebook Marketplace?
No, you cannot create a Group specifically on the Facebook Marketplace. Instead, you can make a regular Group on your account and make it eligible for buy and sell activities.
For this, first, make a new group on your FB account. You don't need to do this if you are already an Admin in a Group.
Now, go to your Group Profile and click the "Add features" option on your left panel.
After that, press "Add" next to the "Buying and selling" feature on your right panel. It will make your Group eligible for such activities.
Now, whenever you create a new listing on Marketplace, choose your Group name under the "List in more places" section.
This will immediately post your listings on that Group. Hence, the members can now order your items easily.
FAQs
Can I use Facebook Marketplace without a Facebook account?
You can browse but not use the Facebook Marketplace without a Facebook account. You must have a Facebook account to place an order, message, or make a listing on Marketplace.
How do I join on Facebook Marketplace?
To join Facebook Marketplace as a buyer, open your FB account and go to the "Marketplace" shortcut. If you want to join as a seller, create a new listing and publish your post from your account.
Can I post on Marketplace without friends seeing it?
Yes, you can. To post on Marketplace without your friends seeing it, enable the "Hide from friends" option when making a new listing.
Wrapping Up
In conclusion, you just need to make a personal profile to create a Facebook Marketplace account. There is no need to do any extra steps.
However, it is always a good idea to separate your personal and business profiles to use Facebook Marketplace as a seller.
Overall, take your time exploring all the features and check out other Facebook Marketplace tips if necessary.